If getting dinner on the table is one of a bazillion things on your to-do list, I've got just the thing for you – a busy mom meal plan solution. Shoo away mom guilt because you won't be rummaging through your pantry looking for the last box of mac 'n' cheese. This plan will take your well-planned leftovers and turn them into new delicious dinners your whole family will love.
What is this voodoo, you ask? Many of us Real Planners are busy moms too. Like you, we also are juggling how to keep our kids fed, bathed, and loved. We keep our homes (relatively) clean and orderly. And often times this happens while running companies, showing up for full-time jobs, and/or managing the busy schedules and activities of our entire family.
And if you're anything like me, while you value feeding your family good, wholesome food, you don't have time to obsess over planning and cooking. That's why we love meal planning (have you tried our meal planning app?). And we've mastered the shortcuts that help you get dinner on the table without pushing you over the edge of sanity or just ordering mediocre pizza. Again.
Our busy mom meal plan always includes batch cooking and a savvy use of leftovers so most of your effort (and mess) happens in one kitchen session, and the rest of the week you're doing minimal prep to pull together delicious, satisfying meals. This doesn't mean just making a massive pot of spaghetti and feeding it to your family night after night. With practice, you'll get in the habit of preparing versatile proteins that can be reinvented in many fun and different ways throughout the week.
How to master the busy mom meal plan
We like to think of the busy mom meal plan in a series of three days. So if you want to plan for your entire week, plan for two main proteins.
In advance: Choose a versatile protein like the roast chicken we use below. Other great options are a beef or pork roast, or even a ground meat dish. Then choose a versatile veggie side that can be incorporated into your day 2 soup, and/or become part of a new dish on day 3. Buy double or triple what your family normally eats in one meal when making the meat and side recipes. Stock up on good-quality bone broth. We buy ours in bulk from Thrive Market.
Day 1: Cook meat or chicken, make your side, and a simple salad. If your protein has bones, use them to make broth for tomorrow. You can learn how to make chicken broth here.
Day 2: Use the broth from yesterday as a base for your soup. If you didn't make broth, use the broth you stocked up in your pantry.
Day 3: Use the leftover meat to make a meal with already cooked meat and more of the vegetable. Examples include curry, stir-fry, or hash.
After a few weeks of meal planning like this, it will start to feel like second nature to make one night's dinner magically transform into three meals worth of distinct different food. See how we do a busy mom meal plan with our slow cooker roast chicken…
Day 1
Slow Cooker Roast Chicken with Lemon and Garlic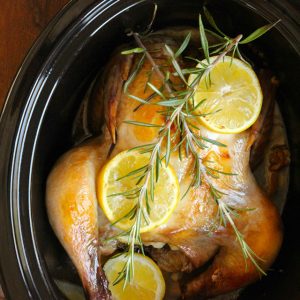 Roasting meat may seem time-consuming and labor-intensive. Especially if you haven't done it before. But here's a little secret: It's one of the easiest ways to prepare meat. Rub on some salt and maybe spices, throw it in the oven and let it do its thing. Occasionally take a peek and maybe baste with its juices.
When it comes to making a smart, busy mom meal plan, there's nothing better than a whole chicken. If you haven't mastered this kitchen skill yet, it's not as intimidating as it may seem. Learn how to roast a chicken here.
It's super easy to make broth from your leftover bones, and if you don't feel confident doing that yet, learn how to make basic chicken stock here. Otherwise, make sure you have store-bought broth handy for tomorrow. Get the slow cooker roast chicken with lemon and garlic recipe here.
Chili Lime Roasted Sweet Potatoes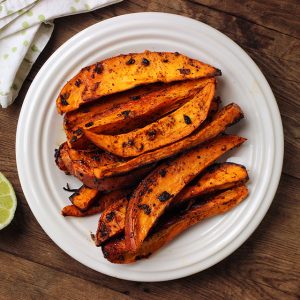 These chili lime roasted sweet potatoes are a crowd pleaser and a nutrition win as well. As part of your meal plan, you'll be able to serve them for dinner on night one and then add them to your soup tomorrow.
Get the recipe here.
Spinach Mint Salad with Almonds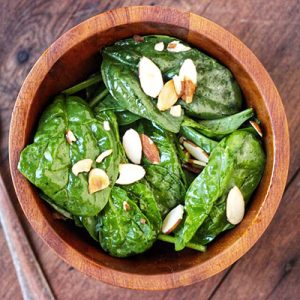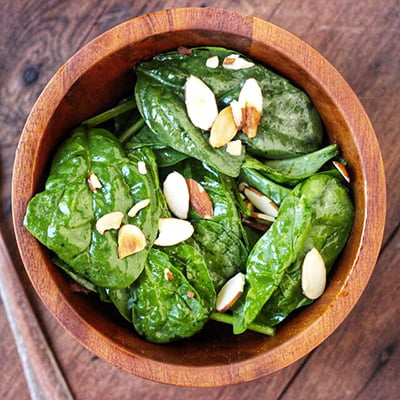 Round out this first meal with a simple salad. In this case, we've planned for a spinach salad with a basic dressing spruced up with mint and almonds. Feel free to skip the garnishes for simplicity, but we like that you'll be able to buy a big box of spinach to use now and for the next two days in different ways.
Get the spinach mint salad with almonds here.
Day 2
Chicken Avocado Soup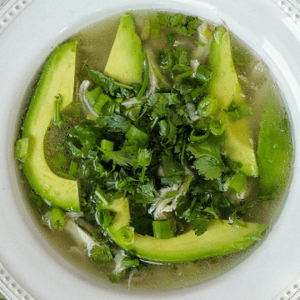 Today's the day you get to see how easy your busy mom meal plan can make your life. Dinner is going to come together so fast. If you have a pressure cooker, follow the recipe for this chicken avocado soup. If not, don't worry, it won't take much longer to make this on the stovetop.
Chop up your chili lime sweet potatoes from last night and when the broth is hot, drop them in for a few minutes to warm up. Right before serving stir in a couple of handfuls of the baby spinach in your fridge, right from the box.
Top with avocado, cilantro, and dinner is DONE.
Day 3
Spaghetti Squash with Chicken and Pesto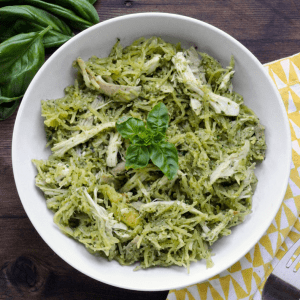 Tonight's going to be another easy-peasy dinner. The most labor-intensive part of your meal prep is to throw a whole spaghetti squash in the oven for 30-45 minutes. Then after it's cool enough to handle, cut the squash in half longwise, scoop out seeds and discard, and scoop out "spaghetti" into a bowl.
If you feel like it, you can make your own pesto, but otherwise use a store-bought one. Toss in your shredded chicken, top with salt, pepper, and parmesan cheese, and your entree is ready to serve. Get the recipe for spaghetti squash with chicken and pesto here.
You can opt to make a simple salad for the side, or if you prefer, you can throw a couple of handfuls of spinach in the hot "noodles" for some extra greens.
This dish is a fun way to let your kids eat spaghetti sandwiches. Toast up some good sourdough bread, butter it, and pile on the noodles. They will probably even forget they're eating veggies.
More busy mom meal plan ideas
See how your week of dinners start to come together with simple elegance? This is just one three-day suggestion. The possibilities are endless. Here are a couple more options:
Beef pot roast –> shredded beef chili –> Chinese shredded beef and broccoli
Slow-cooked Greek lamb roast –> Lamb Korma –> Greek Salad with Roasted Lamb
If you prefer to not eat the same protein for three days in a row, try staggering two of these three-day plans together, alternating the main protein for even more variety in your week.
What do you do to make your busy mom meal plan work? Tag us! #realplans