In a dream world somewhere far, far away there are people who enjoy spending time cooking every meal. They meal plan, shop at the market, prep everything perfectly. They're able to execute chef-quality meals for breakfast, lunch, and dinner as part of their daily routine.
That's not reality for most of us. Cooking can be fun, but with other priorities on your plate, it's no surprise that cooking gets put on the back burner. And while leftovers are great, sometimes you just don't want to eat the same thing on repeat. That's why we like to include versatile proteins in our weekly meal plans so that your lunch leftovers can be easy to throw together into newly reimagined meals. Check out these healthy dinner recipes with special skills…
Easy healthy dinner recipes with versatile protein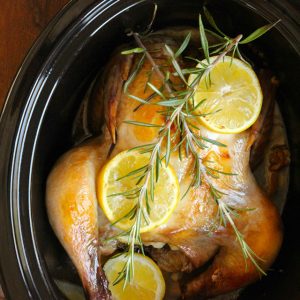 Roast chicken
Though it may seem like a dish reserved for seasoned home cooks, there are many ways to cook a whole chicken and most of the methods are fairly easy and straightforward. One of our favorite, less-known ways is our slow cooker roast chicken with lemon and garlic. Though it doesn't quite brown up like an oven-made bird (unless you finish it in the broiler!), the crockpot method means you can "set and forget" coming home after several hours to dinner ready to go – and leftovers that can be used in endless ways!
Slow-cooked pork
There's something to be said about the luxury of cooking dinner in a slow cooker…that something so good can take so little effort. One of our favorites is our Cuban slow cooked pork,  tender shredded pork drenched in a wonderful mix of citrus notes and warm spices. For dinner this can be paired with baked sweet potatoes, rice, or even fried plantains if you can find them. Add some steamed greens or a simple salad. The leftover meat makes for a super useful leftover protein.




Beef pot roast
Our classic pot roast with root vegetables comes together with a few bay leaves, garlic, and thyme leaves. These flavors meld together for a few hours as the roast cooks. Since this beef recipe is prepared with starchy vegetables, you only need to whip up a quick side of green veggies for a complete and easy dinner that seems fancy enough to serve to guests.
When it comes to leftovers, you can use those veggies as an easy breakfast side so that your meat can be reinvented for the next meal.
How to use versatile proteins to make amazing reimagined leftovers
There's absolutely nothing wrong with simply reheating dinner and eating it for future lunches and dinners. Unless of course, you don't want to eat the same thing again and again. Here are some of our favorite ways to repurpose your leftovers.
Sandwiches, but better
The most obvious thing to do with some leftover shredded pork, roast chicken or beef is to put it on some bread and pack it up for a lunchtime sandwich. If you're looking for a bit more fun with your food, grill up your sammie with some cheese and a slice of ripe tomato, avocado or a scoop of sauerkraut to make a yummy melt.
Tacos! Tacos!
These days the internet is a-buzz with a love affair for tacos. If you're in the swoon, you get it. If not, let us help… Tacos, like sandwiches, are a versatile food brought to us by Mexican cuisine. And unlike their tex-mex cousins, the burrito, tacos are legitimately Mexican.
You can wrap yours in any tortilla of your choosing – corn, flour, or a grain-free alternative like cassava tortillas or even lettuce wraps. (The latter are definitely a modern non-Mexican invention.) What you put in your tacos is completely up to you. A traditional taco usually has meat of your choice (whatever you have leftover!) with a bit of raw shredded cabbage, some diced onion or radish, tomato, and cilantro. Salsa is great if you have it on hand, but otherwise, a squeeze of lemon and a dash of hot sauce and you're good to go.
For the cuban pork, heat it up in a pan and then add some shredded cheese with the meat to your tortilla grilling them for a variation on trendy beef birria tacos.
Salad with a spin
Adding your leftover protein to some bagged salad greens and throwing a dressing on top will absolutely do in a pinch, and most days it's probably the best you can do. But when you're feeling inspired, whip up this Avocado Chicken Salad that will only take a few more minutes but will have your taste buds singing.
Another fun option for your roast chicken leftovers is our Waldorf Chicken Salad – easy-peasy but somehow also fancy enough for high tea.
Though originally created with lamb, this greek salad would pair perfectly with your roast beef leftovers. And shredded pork was made for recipes like this Southwest salad.
Stir-fry it up
For a completely different set of flavors, a simple protein can be repurposed into an Asian-inspired stir-fry – another quick and easy dinner or lunch that can be made in minutes. This works best for recipes that don't already have a rich flavor profile like the roast chicken.
Choose some vegetables that you have on hand. We love bok choy, mushrooms, or broccoli, but really anything will do. And then all you need is some ginger, garlic, and perhaps a splash of sesame oil and fish sauce or tamari. If you need some guidance, this shrimp stirfry will give you a sense of how to pull it together.
For a leftover like the Cuban pork, you can still make a stirfry but since it's already saucy and flavorful, you may not need to add the ginger, sesame oil, and fish sauce. Instead, season it to your taste just before serving.
Surprise yourself with soup
Soup may seem like a more complicated dish than a quick and easy leftover, but hear us out. These days you can buy high-quality broth in stores and online. (We stock up on ours from Thrive Market.) Heat up a couple of cups of chicken or beef broth, throw in your leftover meat shredded, and then add some chopped veggies for a nourishing delicious bowl of goodness ready to eat in 15 minutes or less.
Get inspired with this chicken pesto soup, this one made with zoodles, or this simple chicken avocado soup with lime and cilantro. With leftover beef or pork you could magic up into a version of this shredded beef chili in no time.
You can season your soup simply with salt and pepper or throw in some minced garlic, ginger, and fish sauce for a different flavor profile. Add a handful of baby spinach and some chopped herbs and green onion if you have them on hand.
With these simple suggestions, you'll be impressing yourself and anyone watching as you transform your easy healthy dinner recipes into fabulous meals you can enjoy all week long.
What's your favorite way to reimagine leftovers?