Once you've customized yourdietary restrictions, you are now ready to customize your weekly schedule and craft your perfect meal plan using our calendar meal planning.
If you are using themobile app, you will follow the steps below.If you are using thewebsite, pleaseclickhere.
Customize your schedule
Click the gear icon (this is where you access your settings)
ClickMeal PlanorWhole30 Meal Plan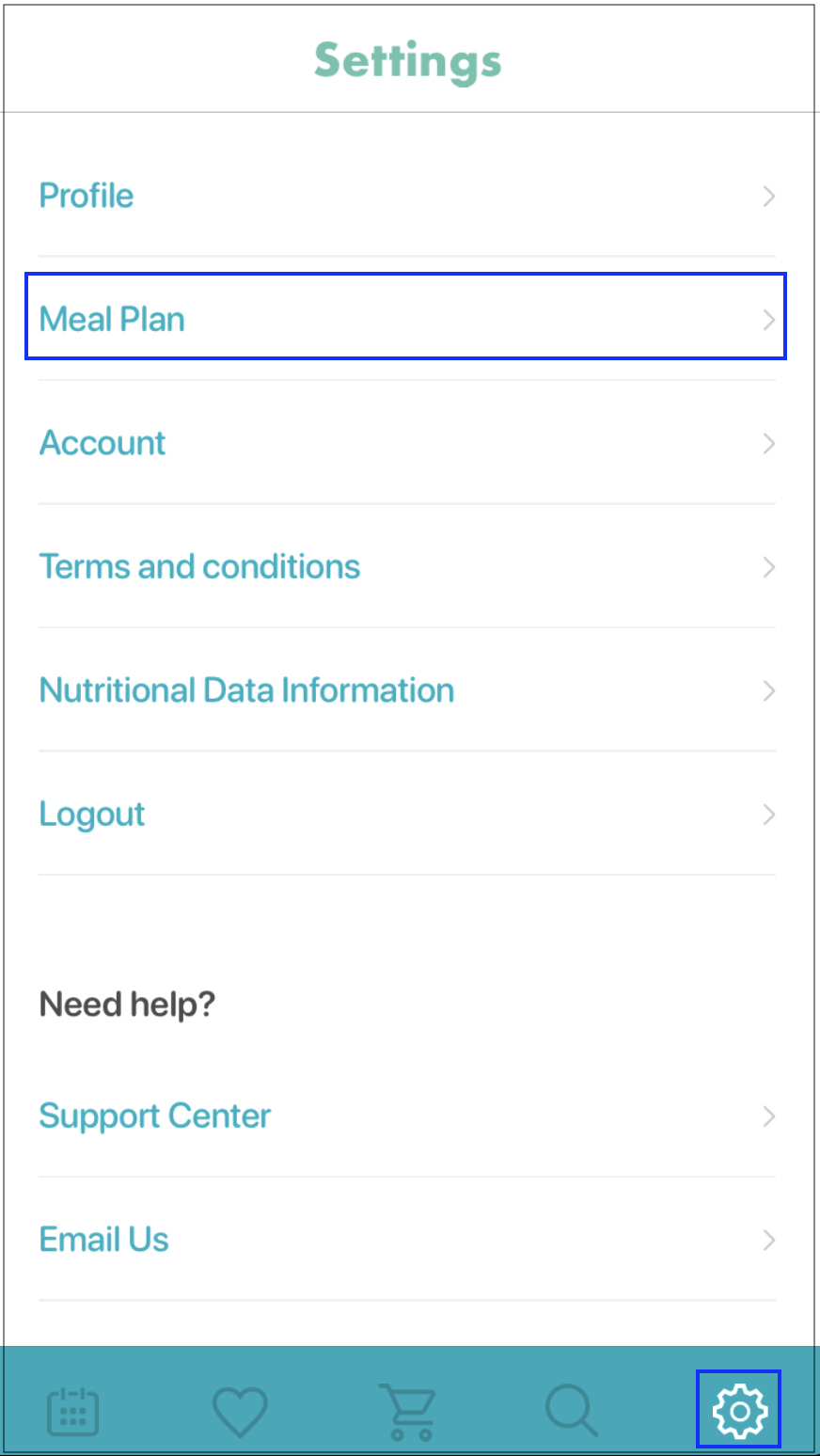 Click onDiet and Schedule
Select the toggle forCalendar meal planning, if it is not already selected
If you would like your meal plans to be automatically generated, set the toggle toOnfor

If you prefer to select your own recipes, selectOfffor this option and the meal plan will be left blank

If you would like touse macro-driven meal plans, set the toggle toOn

A subscription to our Macro Tracker tool is required in order to access the macro-driven meal plan option
Macro Tracker functions, including macro-driven meal plans, are not available with the Whole30 Settings.
Note:

When macro-driven meal plans are toggled on, the options on the Diet and Schedule page will change as a recipe or leftover will be scheduled for every meal during the week

For more information on how to set up macro-driven meal plans, clickhere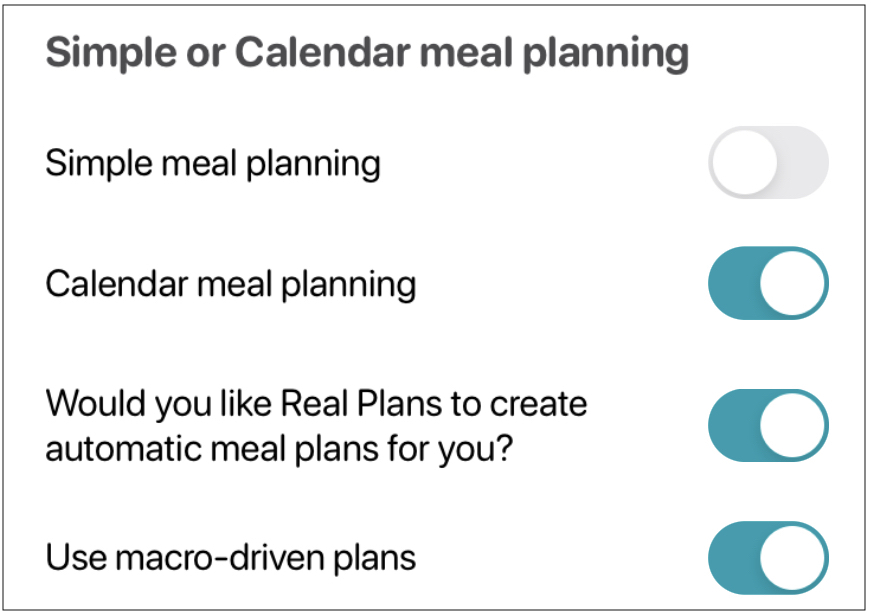 Set yourstart date for your Whole30

This option is only visible if your diet type is Whole30 and are using calendar meal planning

Set thelength of your Whole30(30 days is default)

This option is only visible if your diet type is Whole30 and are using calendar meal planning
Set up your basic schedule
Select how manydinnersyou will cook each week

Use the slider to select the number of recipes that will be cooked for dinner during the week

Check the box next to

Do you want enough for leftovers?

if you would like the meal plan to use leftovers for some of the meals

Note:Leftovers will be scheduled during lunches and/or dinners based on the number of dinner recipes selected

Select the appropriate number forHow many extra leftover portions would you like to make?

This is the number of extra portions of each dinner recipe that you want to make

Select the appropriate number forOver how many meals do you want to spread these leftovers

This is how many meals each dinner recipe will be used for a leftover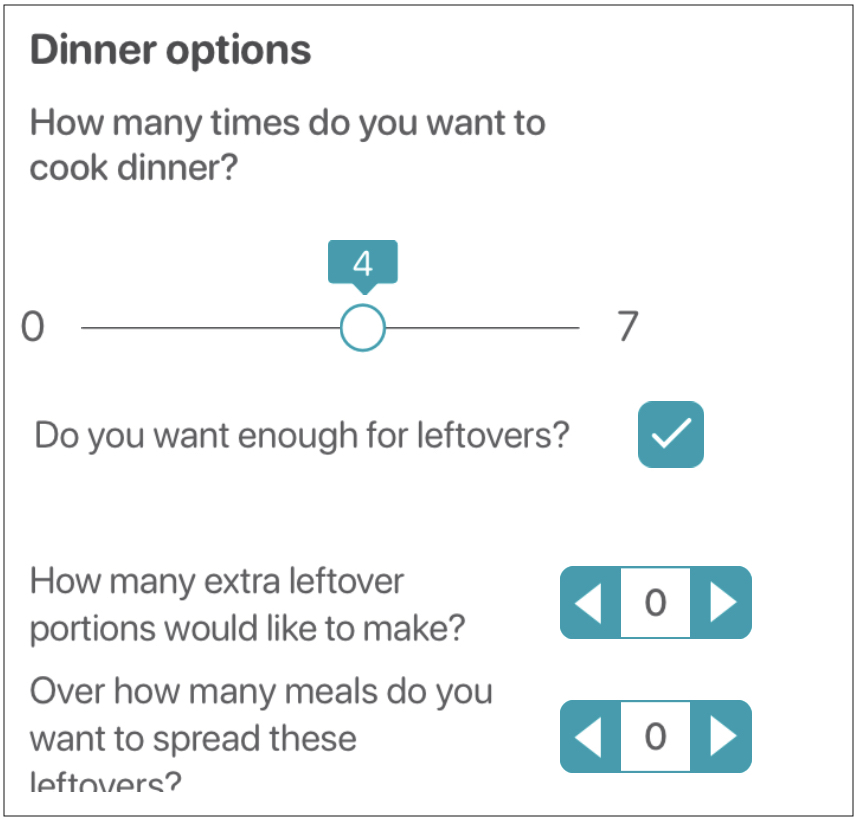 Select thetypes of mealsthat you want scheduled forlunches and breakfasts

Select

how manylunchesandbreakfastswill be needed each week
ClickUpdateif you are done making changes.
A new meal plan will be created for you using these basic scheduling settings. However, sometimes you may decide you want a little more control over your schedule. If so, you can create a customized schedule to fit your needs.
Customize your schedule
If you want to customize your schedule further:
Click on

Customized scheduling

Note:Customizing a schedule will override all of the basic scheduling settings explained above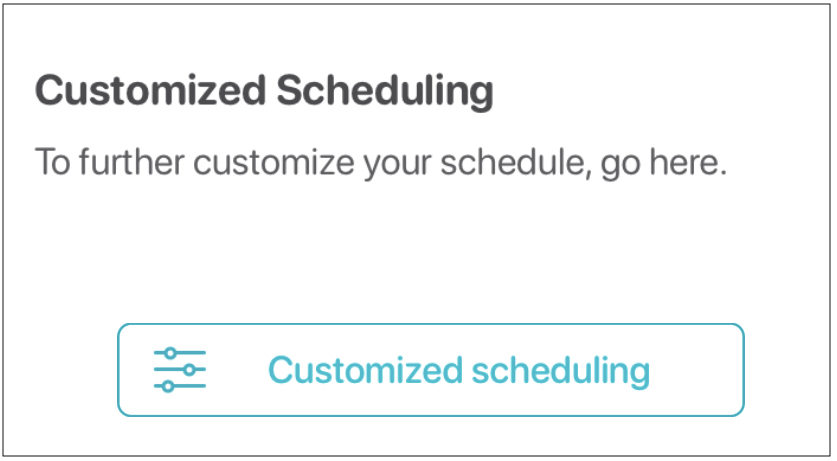 Select the days you want a meal scheduled

Toggle the meals you want scheduled to green
Toggle the meals you don't want scheduled to white

Customize the schedule using filters
Add notes

Add any notes that you want repeated on a specific meal each week
Save changes
Click

Save and continueto save your changes
Confirm your changes
Update my plan

Applies your changes to the current week and future weeks
This removes all of the recipes on your meal plan, including the current week, and schedules all new recipes using your new settings

Update my future plans

Applies your changes on the following week's meal plan
The current week will not change
If you need assistance, please send us an email at support(at)realplans.com.