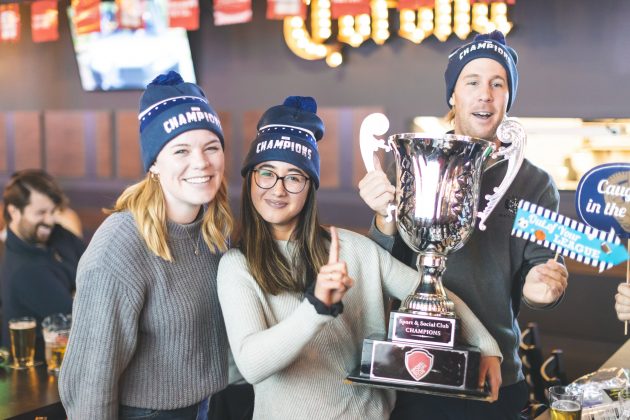 As North America's largest provider of adult sports leagues and events, Sport & Social Group offers over 20+ sports year round allowing our members to stay active while socializing with friends. And we know that your body needs the right fuel - healthy food - to be at its best while active. That's why we've partnered with Real Plans to make it easy to plan meals and go shopping with their super easy mobile app. We hope you give it a try!
—Kristi and Taylor, Sport & Social Group
Real Food Meets Meal Planning Technology
Perhaps you've been eating unprocessed, wholesome food for years or maybe you are just starting to dip your toes into seasonal and delicious recipes online. Either way, using a meal planning software makes it easy to organize your recipes, plan your week, and make grocery shopping quick and simple. We even offer an Instacart integration so you can skip the store all together.
Not only does Real Plans plan your meals, it also learns your likes and dislikes, remembers your favorite recipes, and even lets you exclude things you don't like. Hate mushrooms, no problem; need to stay dairy-free, we've got you. You can decide how many breakfasts, lunches, and dinners you want every week, so you can skip planning a meal when you have date night planned or for that brunch you're looking forward to next weekend.
https://youtu.be/H40yMWTsP90
Take back control with meal plans you can adjust based on your diet, schedule and servings.
Save money shopping with our organized grocery list available on your mobile app.
Make mealtime simple with easy to follow recipes that are family-tested and approved.
Real Plans also includes easy Instacart integration so you can get your groceries delivered and save even more time.
Delicious recipes + Real Plans amazing software
Find new favorite recipes inside Real Plans, a meal planner designed by real-foodies who really get how important it is to get good food on the table every week.
Join Us
Use our meal planning app to save about $50 a week in groceries. That's $200 each month, plus less stress since you'll have a plan.
10 day no hassle money back guarantee for all Real Plans products purchased on this website.
All prices quoted in USD. All subscriptions billed and renewed until cancelled. You can cancel at any time.
I can tell you put a lot of time into these meal plans.

I can tell you put a lot of time into these meal plans. Ive been subscribing for four months and am still amazed at the thorough job you have done. Well done.
Real Plans is wonderful!

Real Plans is very wonderful for me. Last week, stress put me under for days, but since I had already planned and shopped for my weeks meals using Real Plans…I KNEW what to fix and I HAD WHAT I NEEDED to stay on course with my eating.
I don't have to worry anymore

Planning what we are going to eat and making sure I get it all at the store has always been a challenge. With Real Plans I no longer have that concern, it's done for me, and I don't have to worry.
I love this concept

I love the concept since Im back to working full time and asking my husband to occasionally make dinners. This will be a great way to keep track of everything and share the duties.
So impressed with the shopping list & recipes

I just printed out the shopping list and a couple of recipes. I'm so impressed!!
Everything I wanted plus more

This meal planning system has everything I wanted plus more. It lets me choose my diet plan, which helps when you are transitioning from a traditional diet to a Paleo one.
Lots of flexibility, good food options

I have been using this service for about a month. It's been great. Lots of flexibility, good food options.