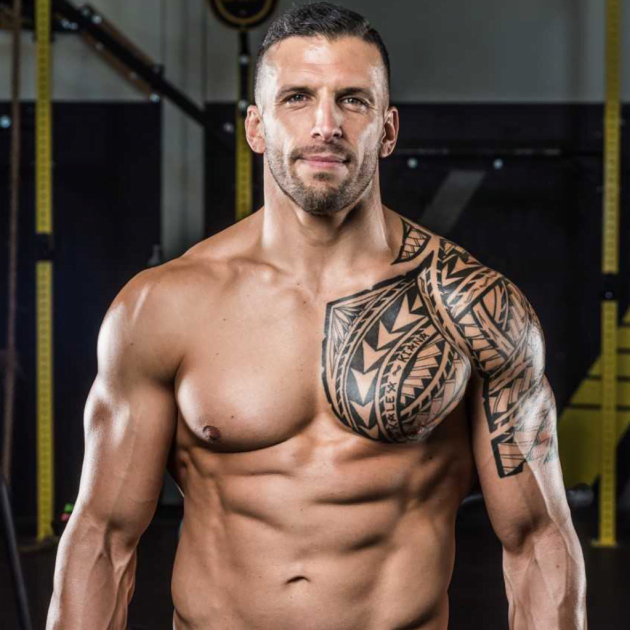 After I went on The Dr. Oz show talking about the ketogenic diet I started receiving more and more questions on just how exactly to follow a keto diet. What I quickly realized is how awesome would it be if I could help people write their own plan that's customized to them and their lifestyle and their individual tastes, that they KNOW is keto-friendly. Well thanks to Real Plans, now you can do just that!
—Drew, Fit2Fat2Fit
The best way to succeed at the keto diet is to have a plan - invest in yours
In order for it to work, the keto diet relies on numbers.
Which is why I use Real Plans. It's the only meal planning app that allows you to create and organize recipes while generating a weekly menu, grocery list, and a day-by-day roadmap for getting healthy, delicious food on the table. It also contains a macro tracking calculator that syncs up to your meal plan. Plus you can now add my recipes to the plan!
If that's not enough grab your attention, catch this: Real Plans is fully customizable.
No matter what you're up against, Real Plans will bend and flex to meet your needs.
https://youtu.be/QVHSTNmSIes
No other keto meal planner on earth adapts to what you like and don't like
For example, don't eat shrimp or mushrooms? No problem. You can set the planner to leave them out.
Have a kid that is happy to eat your low carb food – just as long as it's served with a giant bowl of rice or mashed potatoes? You can plan for that too.
Maybe you want schedule a couple of crockpot meals each week so that they're ready to go as soon as you get home. Done.
Plus, each delicious keto entree has been carefully created to provide the correct ratios of fat, protein, and carbohydrates.
Meanwhile, the built in Real Plans macro tracker easily calculates where you're at with your net daily ratios. Y'all, the macro tracker counts food in your meal plan and any off-plan snacks that you may have grabbed during the day.
Counting grams of fat, carbs, and protein doesn't need to be a forever thing. But, it's a good way to make sure you've got your keto diet dialed in to match your current health goals.
Take back control with meal plans you can adjust based on your diet, schedule and servings.
Save money shopping with our organized grocery list available on your mobile app.
Make mealtime simple with easy to follow recipes that are family-tested and approved.
Real Plans also includes easy Instacart integration so you can get your groceries delivered and save even more time.
My delicious, keto compliant recipes +
Real Plans amazing software.
Join Us
When you sign-up, you will get a Real Plans subscription AND over 100 delicious Drew Manning recipes to kick start your keto diet.
All prices in USD. 10 day no hassle money back guarantee for all Real Plans products purchased on this website. All subscriptions billed and renewed until cancelled. You can cancel at any time.
I LOVE this service!

I've tried so many meal plans and none of them worked for me, but yours does!! Fresh, delicious, simple! KEEP UP THE GREAT WORK!!!!
Loving the software so far!

Finally sitting down to really dig in to the software – LOVING it!! I love that I can just import a link to a recipe and it maps to all of the right fields!
I'm taking better care of myself

Most importantly this service is helping me take better care of myself. At the end of the day, thats what matters. I've already converted my quarterly membership to an annual plan.
The meals are so delicious!

I also want to say that I am loving this meal plan program so far and the meals are so delicious, it's been far too long since I've eaten food that is this good for me and tastes this amazing.
Real Plans was a breeze to learn to use

I tried one other meal planning service that just was very cumbersome and time consuming. Real Plans, however, was a breeze to learn to use. The instructional videos were very helpful.
There is such a friendly 'vibe'!

Love the service, friendliness and cheer of the whole service team! There is such a friendly "vibe"! love the service too!! Thanks!!
A program to match my way of thinking

It feels almost like you read my mind and created a program to match. Thank you!!!
What is keto?
Keto is a high fat, moderate protein, low carb diet where approximately 75% of your daily caloric intake comes from fat, approximately 20% from protein, and about 5% from carbs.
When following the ketogenic protocol, you teach your body to run off of ketones rather than glucose.
Ketones are a more efficient energy source.
All of the bread, pasta, rice, and sugar that you consume on a daily basis gets converted to glucose. Glucose is like throwing paper on a fire. There will be a big increase in the size of the flame, but only for a short period of time. Before long, the flame returns to its original size very quickly.
Ketones are like the coal or the logs of the fire…a slow burning and sustained energy source.
When you limit your carb intake, your body begins using ketones as its energy source and this is what's known as ketosis. The keto diet is anti-inflammatory. It improves cognitive function, regulates hormones, improves insulin, and lowers cholesterol.
But as revolutionary as the keto diet it, I hear people say that there still aren't enough of keto friendly options out there. Pinterest recipes can be deceiving, products marketing to the keto audience are not as friendly as they perceive to be, and there's just too much false information out there.
How awesome would it be if I could help write your own plan that's customized to fit your busy lifestyle and preferences.
A plan that you KNOW is keto-friendly?
Thanks to Real Plans, we can do just that.