Personalized plant-based meal plans
celebrating
whole foods.
Get Mine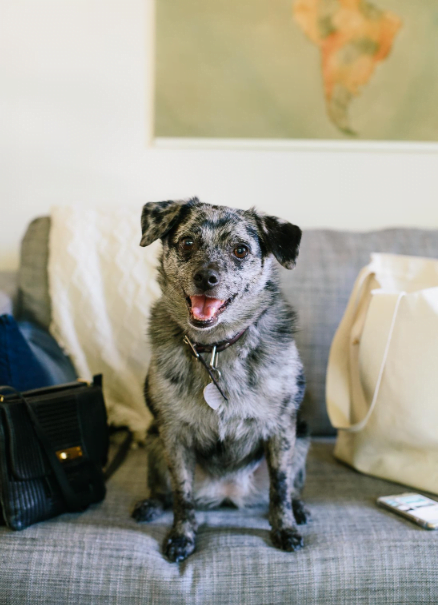 Cue the trumpets! The day is finally here. I'm excited to share that I finally have a meal planning solution for you. Over the years, I've heard from more and more of you who use Cookie and Kate recipes almost exclusively at home (hooray!), and would love help planning your meals.

I've really wanted to help, but the logistics made my head spin. Like, what if my weekly meal plan included my latest favorite pasta dish, the Vegan Spaghetti alla Puttanesca, but your husband's gluten free, your daughter hates olives, or you're just not in the mood for pasta this week? RIP, meal plan.

I didn't want to offer meal plans if I couldn't do them right, but now I have a solution that really works. I partnered with Real Plans, a website with amazing meal-planning technology, and we added over 300 Cookie and Kate recipes to their database (which already includes over 600 vegetarian recipes).

Basically, you tell Real Plans how many breakfasts, lunches and dinners you need to plan each week, and for how many people, and it will create a menu and grocery list for you. You can customize it as much or as little as you'd like. I love to cook but hate planning; with Real Plans, I can fast-forward to the fun stuff.
How It Works
Tell Real Plans who you are and what you like to eat.
Adjust your custom meal plan for this week's schedule
Head to the store with a precise grocery list
Use my recipes to cook delicious, nourishing meals
Sit back + relax with your family - you're winning at life
State your preferences once, and you're done
Real Plans will only display recipes that work for you from now on. For example, I selected the "vegetarian" option, and it immediately excluded beef, poultry, etc. from my recipe options. If you hate olives, you can exclude all olive recipes. If you're gluten intolerant on top of that, you can set it up for vegetarian, olive-free, gluten-free recipes in just a few clicks. Boom! No more sifting through recipes to find what will work.
Easy recipe adjustments
You can let Real Plans pick out your recipes for you, or you can pick them all out yourself, or anywhere in between. It's super flexible. They will adjust all of the ingredients so the recipe yields the number of servings that you need. They even have a Tinder-style iPhone app that you can flip through to browse recipes—swipe right if you like it; swipe left if you don't. If only dating were so easy!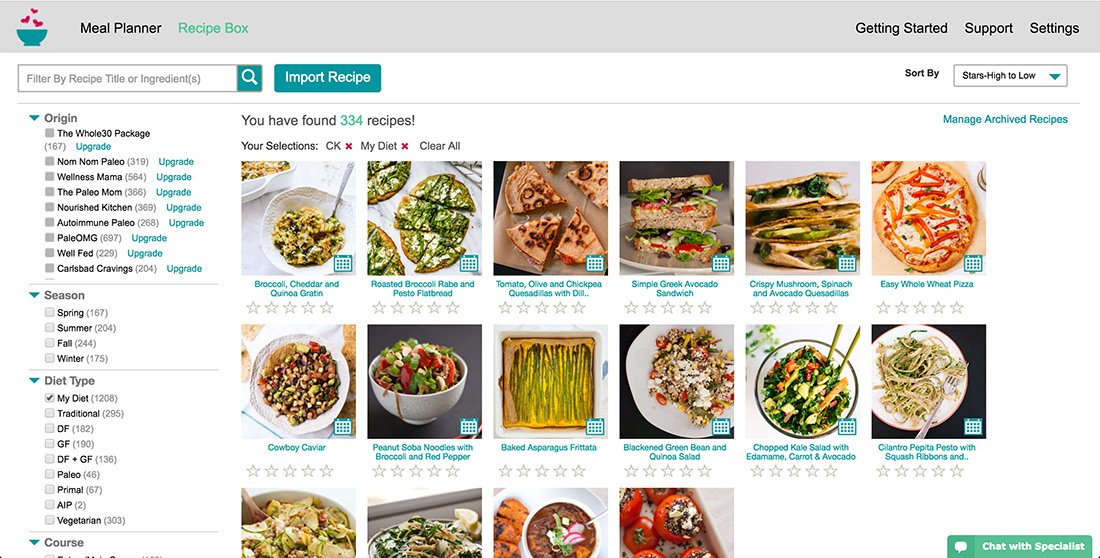 Unlimited recipe options
You can add any recipe that you find on the internet to your recipe box using their bookmarklet. It's as easy as pinning a recipe. You can also choose from my recipes, from Real Plans' own recipes, and/or pay an extra dollar per month to access another bloggers' recipes (like my friend, Naturally Ella).
Organized grocery lists
Once you've picked out your recipes for the week, you can print your grocery list or pull it up on your phone using their iPhone app. You can check off the ingredients you already have at home, and the ingredients you still need to buy are organized by section of the grocery store. If you change a recipe on your meal plan, the grocery list automatically updates. Love it!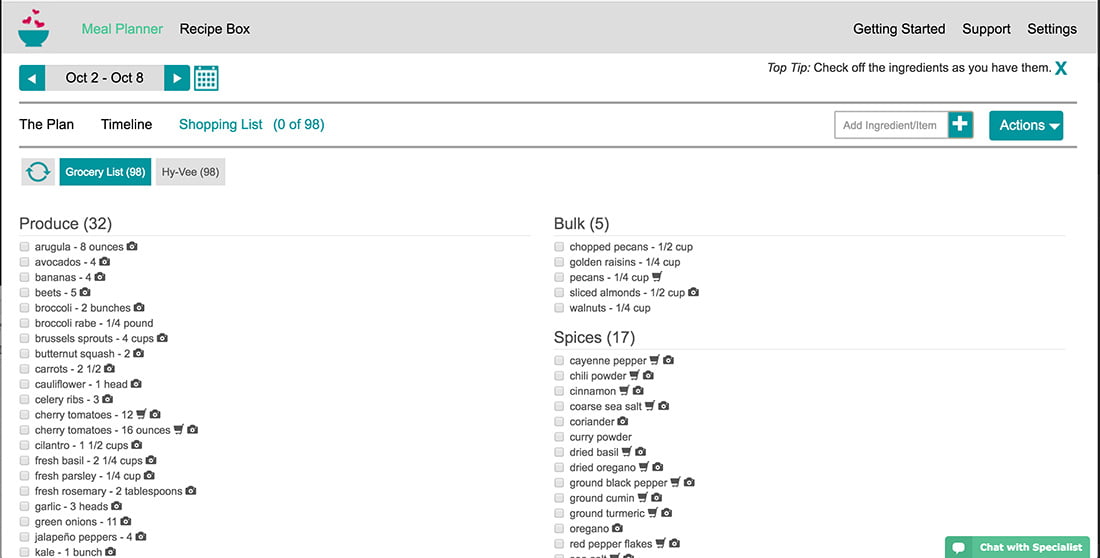 Fantastic resources and support team
With any awesome technical solution, there's a bit of a learning curve. Real Plans has made it so easy to learn how to use their tools, from short videos to 24/7 customer support people that will gladly answer your questions.
It's affordable
I really believe that Real Plans will more than pay for itself by saving you money at the grocery store (no more wasted ingredients) and by saving you time (priceless). The membership costs as little as $7 per month and you can cancel any time. Also, if you cancel within the first 30 days and then ask for a refund you will get your money back in 24 hours. I tried it myself to be sure, and it was a quick, hassle-free process.
Let's do this!
When you sign-up you will get a Real Plans subscription
AND over 300 delicious Cookie & Kate recipes.


30 day no hassle money back guarantee for all Cookie & Kate products purchased on this website. All subscriptions billed and renewed until cancelled. You can cancel at any time. If you are an existing Real Plans subscriber these are the links to upgrade to the Monthly, Quarterly or Annual plans.

What You Get

Personalized weekly meal plan
Adjustable portion sizes
Access to over 300 Cookie & Kate recipes
Renewed Enthusiasm for cooking
Live Chat Support with Meal Planning Specialist

Automatic shopping list
Recipe Importer
Flexible schedules to suit your week
IOS and Android Mobile Application
Multiple customizations to suit YOUR food freedom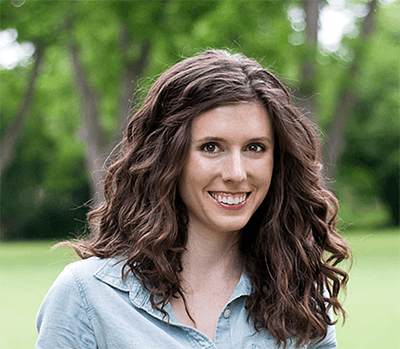 In summary, if you're generally short on time, searching for last-minute dinner ideas, and/or ordering takeout more often than you'd like to be, Real Plans could be your saving grace. This is a service that I could never offer on my own, so I'm pleased to find such an awesome partner in Real Plans.

Happy meal planning!
Kate.
Testimonials
Accommodating someone who cooks vegetarian for one, meat for three, allergy-friendly for three, heart-healthy for one, and autoimmune-friendly for one is a feat, but I think you guys have done it!
Shannon, TN
I'm also really impressed with the seasonal option.
Jessica, Australia
I LOVE this service! It've tried so many meal plans and none of them worked for me, but yours does!! Fresh, delicious, simple! KEEP UP THE GREAT WORK!!!!
Rebecca, Mom to 4 hungry kids
Having an autoimmune disease, working full time, and going to school can be over-whelming. Thank you, thank you, thank you!!! You are saving my life and the entire family's sanity.
Kirstina, Austin
It've just watched the intro video and I am so relieved to have found your meal planning site. It is honestly everything It've been trying and struggling to do for so long. You rock. Thank you!!
Jill, CO
Thank you for making our lives easier when it comes to feeding our families. That feeling of what am I going to fix for dinner is one thing crossed off my to do list.
Lynn, CA
Planning what we are going to eat and making sure I get it all at the store has always been a challenge. With Real Plans I no longer have that concern, it's done for me, and I don't have to worry.
Gretchen, San Fransisco
This service is helping me take better care of myself. At the end of the day, that's what matters. I've already converted my quarterly membership to an annual plan.
Patrice, KS
Thank you! it's really awesome – I love it. easy to work with, beautiful, and – of course – delicious recipes :)
Amy Ruiz, Portland
Thank you for your thoughtful menu plans, AND your great customer service!
RB, N. Carolina
All of our friends can't wait to get invited over for dinner to see what new culinary treat I'll serve up next! And the fact that it is healthy eating is a major bonus!
Sam, England
I love that you do Metric measurements... I'm also really impressed with the seasonal option. It's winter here in Aus so we are happy to have some great soul food using all those winter veggies!
Jessica, Adelaide in Australia
I can tell you put a lot of time into these meal plans. I've been subscribing for four months and am still amazed at the thorough job you have done. Well done.
Kevel, Ohio
We truly love it.
Morgan, ND
I highly recommend it.
Micki, IN
Finally sitting down to really dig in to the software - LOVING it!! I love that I can just import a link to a recipe and it maps to all of the right fields!
Steph, PA
I love that the recipes don't take 20/ingredients you'd have to go to a special store to buy and the timeline is a lifesaver.!
Belinda, MO
I work. Full time plus. I have a two year old and a picky husband. This meal plan is the best.
Gina, OR
As someone with many food intolerances it is so nice to be able to tell the program ahead of time not to include those foods instead of trying to figure out alternatives.
Lila, AZ
I love the concept since I'm back to working full time and asking my husband to occasionally make dinners. This will be a great way to keep track of everything and share the duties.
Jessica, WI
I just printed out the shopping list and a couple of recipes. I'm so impressed!!
Joe, NV
The ability to import recipes from the web and have them seamlessly integrate in the recipe box and populate fields with a simple click of the button is sheer genius!
Kathleen, TX
This made meal time easy and way less stressful.
Wayne, NZ
You have saved me a great deal of time and stress.
Cory, TX
I have been using this service for about a month. It's been great. Lots of flexibility, good food options.
Parker, VA
Our favourite at the moment is the tortilla soup. So delicious and keeps us full for ages.
Reesa, Australia
Their company was telling me about new features they're enacting in order to help more people stay on budget. Apparently, I can have it all. So thankful for the good people of the world today.
Denise, AZ
I'm so excited! The Timeline is great because it helps my husband who is not a seasoned cook. Thanks again!
Jesse, IL
I'd like to THANK YOU for the amazing tool you have created. It's not only clearly a work of love on your part- it's a work of art.
Angela, MN
Basically, this is a love letter. I always want to eat well, but eating real foods requires a certain amount of work and organization, and I am not known for my organization.
Diane, WI
It feels almost like you read my mind and created a program to match. Thank you!!!
Sarah, NM
Love the service, friendliness and cheer of the whole service team! There is such a friendly "vibe"! 😊 love the service too!! Thanks!!
Heather, TX
After about a month of following the plan and stocking up on staples, I found I saved both time and money while getting truly delicious, nutritious meals on the table.
Felicia, CA
I work, homeschool, and cook all meals from scratch to facilitate some dietary restrictions and I love having some help in the planning department.
Tina, GA
Amazing job on the website!!! Love it!!
Rachel, CA
This inexpensive tool saves me hours of time! I won't do with out it!
Leslie, MI
Real food is at the top of our priority list but thanks to you, we can spend less time planning, shopping and preparing it!
Eric, Seattle
I adore the tailoring you have put into the programming, and how easy the platform is to use.
Janie, UT
I made my first meal from my weekly plan this week! And it was a huge hit!!!
Clarica, SC
What you and your husband have done here is phenomenal! I can't wait to use it.
Diana, IN
I tried one other meal planning service that just was very cumbersome and time consuming. Real Plans, however, was a breeze to learn to use. The instructional videos were very helpful.
Darla, KY
I have tried a few other meal planners. Can't customize, can't import recipes, teenager and/or husband won't eat it. Your product is what I have been looking for the whole time.
Katie, WI
I am so excited about the updates you have made to the real plans. You have really spent a lot of time in allowing people to personalize their own menu.
Catherine, Nova Scotia
Your recipes have been perfect all along. I could not be happier.
Meredith, Chicago
Your system is totally stupendous! I just plowed my way through my first week, importing some recipes, typing in some, editing the shopping list, and finally creating the PDF of the Meal Plan.
Patrick, AZ
I am really enjoying real plans so far. Great work!
Tonje, Norway
Used the recipe import for the first time to add my favorite recipe to my weekly menu. Pretty handy, I love it!
Catie, IN
You should feel very proud of what you have created it has been a blessing for all that has joined and will join.
Kelcey, FL
It's winter here in Aus so we are happy to have some great soul food using all those winter veggies!
Jessica, Australia
I also want to say that I am loving this meal plan program so far and the meals are so delicious, it's been far too long since I've eaten food that is this good for me and taste this amazing.
Christina, ME
I didn't invest in Real Plans for the recipes -- the technology and the "automation" were my primary drivers. But day-yam the recipes are good.
Delores, CO