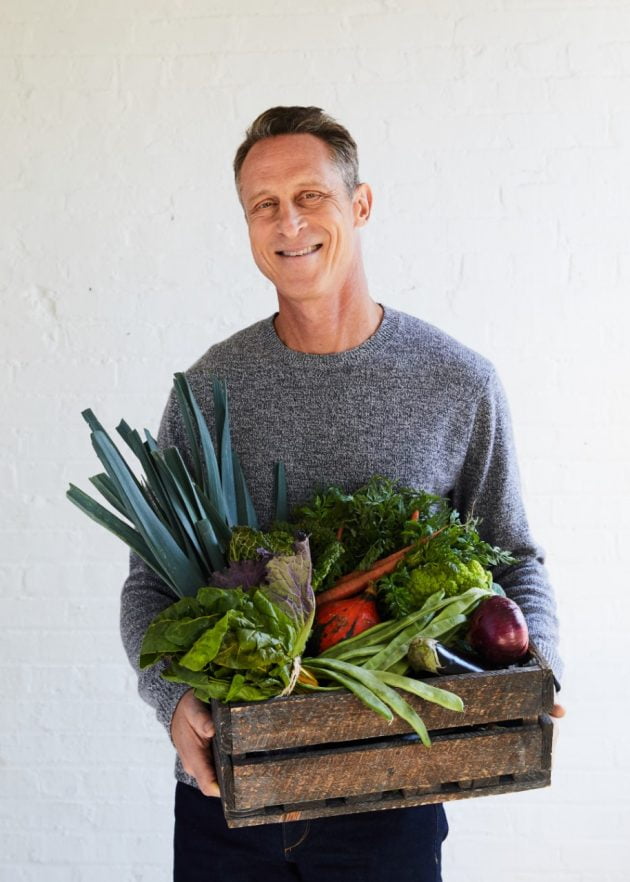 Going Pegan has helped thousands regain their health, beat disease, slow aging, and rediscover what it means to feel amazing every single day—I've experienced the difference myself, now it's your turn. Since any dietary goal needs a good plan, I've partnered with Real Plans. They take care of the planning so you can take care of your health, one delicious meal at a time.
—Mark Hyman, MD
Change your life with the Pegan Diet.
If you've ever been confused about what to eat, Pegan has that problem solved. It takes the best parts of both vegan and Paleo to create a way of eating that is super flavorful and satisfying, and it actually supports your health, too. As an extra bonus, eating this way also has major benefits for our environment, climate, economy, other humans, and animals. You don't have to choose between good food and good health when you eat Pegan. I promise you'll notice a difference—from your skin to your digestion, memory, mood, weight, energy—the abundance of real foods on the Pegan Diet will have you feeling your best without ever feeling deprived. The catch is that you just have to start, and that's where Real Plans comes in.
Customized meal-prep to help you succeed. 
Time and time again, I've seen patients struggle with meal planning. On top of busy family lives, jobs, travel, and everything else, planning out what meals to eat throughout the week can feel overwhelming. The thing is, it's an essential piece for being able to stick to your diet and reach your health goals, and lack of preparation often leads to failure in the face of fast food and convenience stores.
Healthy eating really isn't hard or expensive, but it does take a little planning. Now, that part is completely taken care of, thanks to Real Plans. Whether you're dining solo or cooking for a family of six, they will create a weekly Pegan meal plan to simplify life and support your healthy eating goals—all for way less than your monthly coffee budget—so you can spend more time doing the things that elevate you while eliminating the stress of what to eat. Doesn't it feel great to have one less thing to worry about?
Not only does Real Plans plan your meals, it also learns your likes and dislikes, remembers your favorite recipes, creates easy-to-use shopping lists, and you can even have groceries delivered right to your doorstep. You can decide how many breakfasts, lunches, and dinners you want every week, so you can skip planning a meal when you have date night planned or for that brunch you're looking forward to next weekend.
The guesswork is gone! Welcome to Real Plans, the official home of Pegan meal planning.
If you're wondering why the Pegan Diet is so special, here's a breakdown of what you can expect.
A huge variety of colorful vegetables make up the foundation of Pegan, feeding your body all the vitamins, minerals, antioxidants, and other phytonutrients it needs to thrive from the inside out. You'll also enjoy some low-glycemic fruits like sweet, tangy berries. Then there are the satiating and delicious healthy fats that are part of every meal, helping to fight inflammation, supporting brain health, and so much more (think avocados, olive oil, coconut milk, walnuts, and wild-caught fish). That's right, no fear-of-fat here!
High-quality protein is another essential part of Pegan, which can be found in grass-fed and pasture-raised meats, poultry, and eggs along with the right amounts of low-starch legumes and whole grains. There are so many other tasty parts of Pegan (like dark chocolate!), because this diet was designed to be inclusive, nourishing, and satisfying.
Pegan is more of a lifestyle than a diet, and once you feel the benefits in your body you'll be a believer.
If any of these foods threw a red flag for you, because you either dislike them or have an allergy or sensitivity, Real Plans has thought of that. You'll have the option to remove specific ingredients from your plan and include ones you love. This is totally customized meal planning at your fingertips. And if your schedule changes, not to worry—Real Plans works around your schedule and can make changes at the drop of a hat.
When you sit down to plan your meals for the week, Real Plans gives you an interactive daily timeline of what you'll need to do in the kitchen. For example, if you need to marinate some meat or start something in the slow cooker, Real Plans tells you ahead of time. It makes everything super simple for even the newest cooks and Pegan eaters.
One of my favorite parts of Real Plans? You have the chance to try new kinds of foods and gain skills in the kitchen that you'll use for the rest of your life, all while fueling your body with real food to promote a better brain, support a healthy metabolism, and live longer, stronger, and happier.
Take back control with meal plans you can adjust based on your diet, schedule and servings.
Save money shopping with our organized grocery list available on your mobile app.
Make mealtime simple with easy to follow recipes that are family-tested and approved.
Real Plans also includes easy Instacart integration so you can get your groceries delivered and save even more time.
Delicious Pegan recipes that take the guesswork out of eating well
A real plans subscription gives you all the support you need for sticking to your dietary goals and achieving your best health. Available on desktop or mobile, it's your new wellness sidekick.
Your personalized Pegan meal plan is waiting
Set yourself up for success.A real plans subscription gives you all the support you need for sticking to your dietary goals and achieving your best health. Available on desktop or mobile, it's your new wellness sidekick.
10-day no hassle money back guarantee for all Real Plans + Dr. Hyman products purchased on this website.
All prices quoted in USD. All subscriptions billed and renewed until canceled. You can cancel at any time.
Life-changing diet!

This has changed my health so dramatically in such a short time.
Weight loss and such awesome support!

Your support and diet plan helped me lose 360 pounds!
New mindset – thank you so much!

My entire mindset has changed for the better thanks to Dr. Mark Hyman.
My life is forever changed!
Reals plans is the real deal—let them help you reach your goals
Luckily, meal planning is one of those things you can pass off to someone else.
But not all meal planning services are created equal. Some of them have a difficult user interface and take too much time to even get started with. Some are really expensive. Others take a one-sized-fits-all approach and you're stuck with the ingredients they choose and left without guidance for other options. I've also seen many that claim to be health-focused and use things like canola oil, white flour, and lots of sweeteners.
That's why Real Plans is the real deal.
It's completely customizable meal planning at your fingertips for an affordable price, and they truly seem to think of everything.
When I saw how incredible their program is I knew it was something I wanted to provide to my community, which is why I shared all of my top Pegan recipes with them to use in your meal plans. A Pegan Diet subscription with Real Plans guarantees you're eating all the right foods to elevate your health and avoiding those that will harm it.
Real Plans is the tool you've been waiting for to support your health journey on the Pegan Diet. Get started today to experience what it means to eat well and feel your best.
Wishing you health and happiness,
Mark Hyman, MD