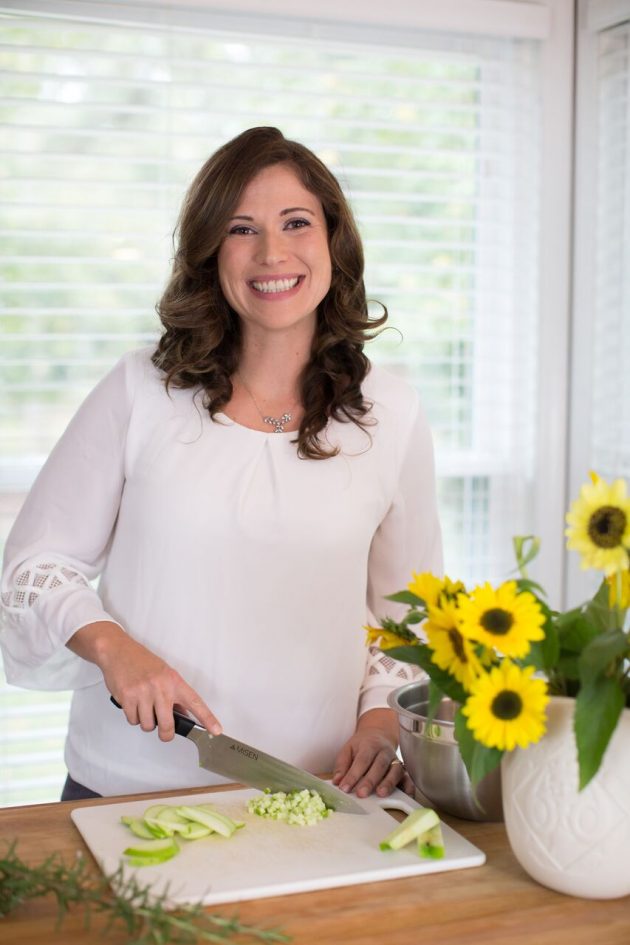 I learned firsthand the importance of eating healthy foods seven years ago when changing my diet helped me reverse a dozen diagnosed health conditions and contributed to my 120-pound weight loss. Now, my whole family is on board and following a Paleo-style diet has become a way of life. But, staying on track still requires dedication and planning! And, that's where Real Plans comes in. It's quite simply my best tool for getting healthy foods on the table with minimal stress and effort.
—Dr. Sarah Ballantyne, PhD, The Paleo Mom
Here's my secret for staying on track.
The best strategy that I can recommend for staying on track is planning ahead. That means knowing what you're going to eat on rushed mornings, busy weeknights, during travel, and when temptation and cravings hit (because, let's face it, they invariably do!). Planning ahead also encompasses preparation. It makes all the difference in the world to have all the ingredients for a quick meal on hand for whipping up dinner after soccer practice ran late, to have cooked enough on more leisurely evenings for a few leftovers nights during the busier part of the week, and to have pre-prepared some grab-and-go foods to have on hand all week.
Planning ahead is critical for staying on track with our chosen dietary priorities because it means that you're never stuck not knowing what to cook, you've got Go To foods for when you're time-crunched, you're never stuck an ingredient short in the middle of cooking a meal, and you can feel comforted and reassured that you're next meal or snack or treat will be delicious! Being prepared is the solution to all of the most common situations where we derail (whether derailing means we simply end up making a suboptimal choice out of convenience or completely fall off the proverbial wagon).
When you have the plan-ahead strategy mastered, suddenly the Paleo diet and the Autoimmune Protocol start to feel easy, getting healthful food on the table stops being stressful, and we can finally achieve that consistency that is so important to really see lasting health gains.
That's why I've teamed up with Real Plans.
Real Plans is quite simply the best tool I've ever seen for making planning ahead as simple, personalizable, versatile, efficient, dynamic, adaptable, and effective as possible. Yes, I just used ALL the good adjectives. And because I'm so in love with the amazing functionality that Real Plans offers, I have partnered with them to offer hundreds of The Paleo Mom recipes on Real Plans and to curate a full AIP menu option!
Take back control with meal plans you can adjust based on your diet, schedule and servings.
Save money shopping with our organized grocery list available on your mobile app.
Make mealtime simple with easy to follow recipes that are family-tested and approved.
Real Plans also includes easy Instacart integration so you can get your groceries delivered and save even more time.
My recipes + Real Plans amazing software
Get nearly 300 of my favorite Paleo and AIP recipes in Real Plans, a meal planner designed by real-foodies who really get how important it is to get good food on the table every week.
Join Us
When you sign-up you will get a Real Plans subscription AND almost 300 delicious recipes from The Paleo Mom's kitchen.
10-day no hassle money back guarantee for all The Paleo Mom products purchased on this website.
All prices quoted in USD. All subscriptions billed and renewed until cancelled. You can cancel at any time.
I LOVE this service!

I've tried so many meal plans and none of them worked for me, but yours does!! Fresh, delicious, simple! KEEP UP THE GREAT WORK!!!!
Loving the software so far!

Finally sitting down to really dig in to the software – LOVING it!! I love that I can just import a link to a recipe and it maps to all of the right fields!
I'm taking better care of myself

Most importantly this service is helping me take better care of myself. At the end of the day, thats what matters. I've already converted my quarterly membership to an annual plan.
The meals are so delicious!

I also want to say that I am loving this meal plan program so far and the meals are so delicious, it's been far too long since I've eaten food that is this good for me and tastes this amazing.
Real Plans was a breeze to learn to use

I tried one other meal planning service that just was very cumbersome and time consuming. Real Plans, however, was a breeze to learn to use. The instructional videos were very helpful.
There is such a friendly 'vibe'!

Love the service, friendliness and cheer of the whole service team! There is such a friendly "vibe"! love the service too!! Thanks!!
A program to match my way of thinking

It feels almost like you read my mind and created a program to match. Thank you!!!
So why doesn't everyone do this?
Why isn't meal planning and cooking a few extra recipes for the freezer or for snacks a universal approach to managing the week? Well, the truth is that planning ahead isn't necessarily an easy thing to do. There's a lot of moving pieces to consider, and an optimal meal plan is different for each of us. If you're tackling this on your own, it requires a great deal of thought, research, organization, and time commitment (creating a new spreadsheet and shopping list each week is a chore!). Meal plans found online and in cookbooks aren't typically customizable; and until now, meal planning software and services have been difficult to make work within a Paleo or AIP framework and almost always lack the flexibility to cater to different dietary needs within the household.
When you subscribe, Real Plans automatically generates a weekly meal plan for you, using their library of over 1400 recipes, based on your user preferences. You can also swap out favorite recipes, add your own recipes or ones from websites to your database, add additional items to your shopping list, divide your shopping list by store… the functionality and versatility of Real Plans goes on and on! In settings, you decide if you'd rather have your meal plan emailed to you, or just login and check it… And they have a free mobile app so you can plan, shop and cook from your phone! The interfaces are beautiful and intuitive!
Oh! And, Real Plans offers amazing email support, both before and after you buy!  If you're interested in Real Plans but have some questions about the way the system works or if it's a good fit for your individual needs, this is a fantastic opportunity to access a real-life person, rather than just an FAQ.
Plus, with a 10-day money back guarantee, you have nothing to lose! Give it a try and you'll see why it's the tool I can't live without for my weekly meal planning.