Think less. Cook more.
Real food meal plans.
Join Now
What's for dinner?
Ahhhh the age old question that oftentimes doesn't have the greatest of answers – if you aren't prepared and planning ahead.
No matter what your home and family dynamic look like; single, power couple, a party of five – I think we can all agree that half the battle when it comes to eating better and prioritizing our health and self care, is being prepared. It's all about having a plan and sticking to it, truly it's the best and only way to succeed. But, let's also be really real here, this is always far easier said than done.
The time and energy it takes to plan out your week's meals, make the grocery lists, have a system for shopping, the prep and what to do with the leftovers, at times this can feel like a second career. And this is coming from someone who lives, breathes and thinks about food most of her waking hours.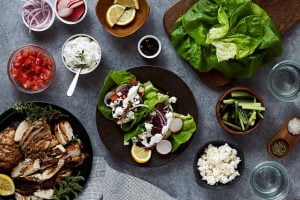 Whether you are new to a real food diet, experimenting with gluten-free, paleo or Whole30, perhaps you just want more exciting, nutrient-dense meal options, maybe you just want to think less and cook more – I'm here to offer you the most magical, game-changer of a service that is about to change your life! I have partnered with Real Plans to bring you your favorite Tasty Yummies Recipes built right into simple, customized weekly meal plans.
Real Plans is the solution to all your meal planning needs with everything you could need to be organized. With options for the ultimate in customization including dietary needs and allergy restrictions along with personal likes and dislikes and adjustable serving sizes, these Tasty Yummies Meal Plans offer the flexibility to suit your own unique lifestyle and family dynamic.
Each week Real Plans creates a custom plan for you, featuring Tasty Yummies recipes, built exclusively for your family's size, busy schedule, and ever-changing needs.
Real Plans provides creative, unique meals to serve your real life. Meal plans that feature recipes focused on whole foods with a side of stress removal. No more constantly needing to reinvent your meals or think on the fly – it's like we're literally giving you extra time in your life!
SaveSave
How it Works
1
Tell Real Plans about you and your diet preferences.
2
Adjust your custom meal plan for this week's schedule.
3
Head to the store with a perfectly planned grocery list.
4
Cook nourishing meals with friends and family.
5
Sit back + relax with your family - you're winning at life
Why Real Plans is Amazing
Customized, dynamic weekly meal plans featuring mouth-watering, nutritious, and simple Tasty Yummies recipes based on your family's favorites, dietary needs, or allergy restrictions that can easily be modified and customized on the fly, as you choose.
Shopping lists, organized by location in the store, available in a simple-to-use smartphone app, which you can easily add or take away from based on what you have on hand or need additionally!
Flexible schedules to suit your weekly commitments.
Recipe importer so you can include some of those old family favorites that you want to use in your weekly plans.
All of this costs you under 25 cents a day, but the time and peace of mind you get back is priceless!
How Does it Work?
Meal planning with Real Plans is just about as customizable as it gets. From adjustable serving size on every recipe, to how many meals you want planned each week. You can specify which hemisphere you are located in (so readily available seasonal produce is taken into consideration) and you can even include and exclude full food groups as well as individual ingredients. Yes – the customization goes right down to very specific ingredients. So, rather than yes or no to mushrooms as a whole group, maybe you dig portobello mushrooms but not shitake, cool – all that gets added to your preferences and your personalized meal plans are adjusted accordingly.
Once you choose these preferences, from there you are set off into meal planning, you are given your plans for the week which you can adjust further, as needed, if needed. Then, based on that week's recipes you receive a segmented shopping list based on location in the grocery store, produce, spices and other pantry items, etc. You can then check off anything you already have in your kitchen, add anything else you may want to add to your shopping list, and you take it to the store so nothing gets forgotten. You can print or email your shopping list, or even easier than that, open your it up on your smartphone in the Real Plans Mobile App.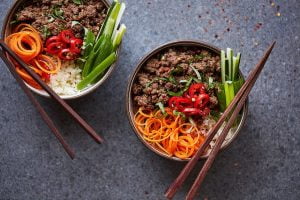 Finally, one of my favorite things, you're even given a timeline for each day of cooking, so no missing that something should have been marinated ahead of time – you know those pesky tasks that often get missed and LOVE to sabotage your healthy eating ways.
If you want to be more in control, you can choose to clear the entire week of the suggested meal plans and pick out your own entrées and sides from the Recipe Box! This makes it fun and easy to find a recipe to fit any occasion, holiday or taste using the super smart filtering system.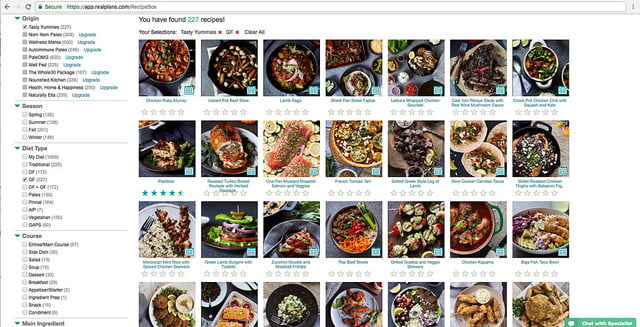 If you're ready to get started with Real Plans, you can try it out right away with a 30-day money back guarantee! Plans start as low as $7/month which gives you access my 300+ Tasty Yummies recipes (we are constantly adding more, too), as well as over 2500 recipes in the database, plus you can also shop other amazing blogger's recipes. Finally, if you have loads of recipes you want into your weekly repertoires, import your favorite recipes from other sources, so you can keep Grandma's famous chicken noodle soup or Mom's favorite Christmas cookies right at your fingertips!
No more tears or fights at mealtime, no opening a sad and empty fridge hoping that something will magically create itself. Real Plans has solved all those issues to make your life easier and healthier than ever!
SaveSave
SaveSave
Join Us
When you sign-up you will get a Real Plans subscription AND over 300 delicious Tasty Yummies recipes.
30 day no hassle money back guarantee for all Tasty Yummies products purchased on this website.
All subscriptions billed and renewed until cancelled. You can cancel at any time.
Get unlimited access to:
Personalized weekly meal plan
Adjustable portion sizes
Transformed picky eaters who can't resist the smells from your kitchen
Access to over 1500 original home-style recipes
Renewed Enthusiasm for cooking
Live Chat Support with Meal Planning Specialist
Automatic shopping list
Recipe Importer
Flexible schedules to suit your weekly commitments
Warm fuzzy feeling from shopping with confidence
IOS and Android Mobile Application
Multiple customizations to suit YOUR food freedom
Testimonials
I also want to say that I am loving this meal plan program so far and the meals are so delicious, it's been far too long since I've eaten food that is this good for me and tastes this amazing.
After about a month of following the plan and stocking up on staples, I found I saved both time and money while getting truly delicious, nutritious meals on the table.
Used the recipe import for the first time to add my favorite butternut squash/sausage bake to my weekly menu. Pretty handy, I love it!
I'm also really impressed with the seasonal option. Its winter here in Aus so we are happy to have some great soul food using all those winter veggies!
Finally sitting down to really dig in to the software - LOVING it!! I love that I can just import a link to a recipe and it maps to all of the right fields!
You should feel very proud of what you have created it has been a blessing for all that has joined and will join.
I have been using this service for about a month. It's been great. Lots of flexibility, good food options.
I love the concept since Im back to working full time and asking my husband to occasionally make dinners. This will be a great way to keep track of everything and share the duties.
Basically, this is a love letter. I always want to eat well, but eating real foods requires a certain amount of work and organization, and I am not known for my organization.
3 for 3 this week! I think the chicken burritos were my favorite but I thoroughly enjoyed the chopped chicken Asian salad! This is great! Even my husband gave the thumbs up for repeats.
Love that I can incorporate my favorite recipes into Real Plans. I was happy to see my Dragon Noodle Kale Salad pop up in this weeks rotation!
What you and your husband have done here is phenomenal! I can't wait to use it.