Guest post by Kyle of Ultimate Bundles
According to a research article published by Forbes, it's nearly five times more expensive to order from a restaurant than it is to cook at home. And although meal delivery kits are a bit more affordable than restaurants, Forbes says you'll still pay three times more for these services than you would at your local grocery store.
But is that really true? Is it really that much cheaper to prepare meals at home? I decided to do a little research to find out. 
How Much Cheaper is Cooking at Home?
Oftentimes it's hard to fully wrap your brain around the cost of a meal until you compare options side-by-side. So in this article, we'll look at three common meals an American family of four would enjoy. Then we'll do a little math and figure out what the prices would be to order the meal from a restaurant, receive it in a meal delivery kit, or prepare it at home. 
For the restaurant prices, I took 3 different national chain prices for each meal and found the average. For the meal kit option, I used pricing from Blue Apron for the enchiladas, Dinnerly for the hamburgers, and Hello Fresh's gourmet options for the steak dinner. Let's see how it all shook out. 
Meal 1: Enchiladas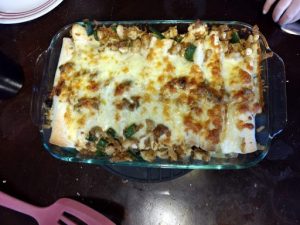 No matter what your family's cultural background is, easy-bake meals like enchiladas are a staple in most households. 
When my family tried Blue Apron, we fell in love with their white chicken enchiladas. 
However, we couldn't justify paying the $8.99 per serving Blue Apron charges when you select their 2 Meals Per Week Plan.
And ordering enchiladas from a restaurant for 4 people can cost you over $40 — before delivery fees!

So we decided to recreate the recipe on our own about a month after we tried the Blue Apron version, and we quickly learned it was much more affordable to make it with ingredients from the grocery store. 
Here's how the numbers broke down when I compared my homecooked prices to Blue Apron and the average of Chili's, On The Border, and Chuy's:
| | | | |
| --- | --- | --- | --- |
| Chicken Enchiladas | Average Cost | Number of Servings | Approx. Cost/Serving |
| Restaurant Delivery | $45 + delivery fees | 4 | $10.99 |
| Meal Kit | $35/meal | 4 | $8.75 |
| Homemade Meal | $20 | 4 | $5 |
When a two-pound package of chicken breasts only costs around $5 and tortillas run a mere $1.50, it's easy to beat restaurant prices! 
I'll admit, I do like that Blue Apron delivers the ingredients straight to my door — but that's easy to replicate with grocery delivery services. 
Meal 2: Hamburgers & Fries
Hamburgers are another American staple that can easily be ordered from a restaurant or found in a meal delivery kit. I decided to find out how the price of getting burgers delivered compared to grilling them yourself.
Here's how the numbers looked when I compared grocery store prices to Dinnerly (a low-cost meal kit), and the average of Red Robin, Fuddruckers, and Burger Republic.
| | | | |
| --- | --- | --- | --- |
| Hamburgers | Average Cost | Number of Servings | Approx. Cost/Serving |
| Restaurant Delivery | $45 + delivery fees | 4 | $10.99 |
| Meal Kit | $25/meal | 4 | $6.25 |
| Homemade Meal | $12 | 4 | $3 |
Although I love a thick, juicy burger from Red Robin, it's definitely much cheaper to just grill out at home. A one-pound package of ground beef costs around $5 and makes four quarter-pound burgers. 
An eight pack of buns runs around $2. And a fresh tomato costs less than $1.
When you compare that to restaurant prices (not even including delivery fees) the savings are obvious. 
And in addition to the cost savings, cooking at home gives you more control over the way your burger is prepared. This can be important for people with food allergies or dietary restrictions.
Meal 3: Sirloin Steak + Two Sides
If hamburgers and fries are the epitome of "economic dining," a sirloin steak dinner is more of a fine dining experience. However, ordering steaks from Outback or Texas Roadhouse can set a family back nearly $90!
Here's how the numbers worked out when I compared the prices of a home cooked steak dinner against Hello Fresh's gourmet line and the average price of Outback Steakhouse, Logan's Roadhouse, and LongHorn Steakhouse.
| | | | |
| --- | --- | --- | --- |
| Sirloin Steak + Two Sides | Average Cost | Number of Servings | Approx. Cost/Serving |
| Restaurant Delivery | $70 + delivery fees | 4 | $17.50 |
| Meal Kit | $54/meal | 4 | $13.50 |
| Homemade Meal | $35 | 4 | $8.75 |
While four decent cuts of steak can cost as much as $20, seasoning and side items will cost very little. In fact, you'll save so much money by cooking at home that you may even have enough money to splurge on a dessert — a luxury that can really break the budget when you're trying to order from a restaurant for a family of four.
Furthermore, when you prepare steak dinners at home, you gain complete control over the cut of meat you receive and the exact amount of time you cook it. You can also control the portions better and prepare an appropriate amount of food for each family member.
The Case for Home-Cooked Meals
As you can see, it is possible to save significant amounts of money by cooking a meal at home versus having it delivered. And since three meals a day equals over 1,000 meals per year, by preparing more of your meals at home, the savings can add up fast. 
This is doubly true for families who are dealing with food allergies or trying to follow special diets. While premium meal kits like Green Chef and Sun Basket address these concerns, the prices for these services are quite high — even compared to mainstream meal kits.  
Although most people think cooking at home actually takes more time and energy than ordering takeout or using a meal delivery kit, that's not always the case. And home cooking gives you way more control over when the food is ready and how it's prepared, which is helpful if you live with picky eaters.. 
Ways To Save Even More Money
When it comes to cooking at home, the numbers speak for themselves. However, there are several ways you can save even more on your weekly grocery bill if you follow some of these tried-and-true suggestions:
Shop the sale flyer or compare prices using apps

like Flipp

.

Plan meals

based on what's already in your pantry or freezer.

Consider buying dry goods, pantry staples, and frozen vegetables in bulk.

Take advantage of farmers' markets or grow your own vegetables and herbs.

Eat leftovers for lunch or plan a leftover dinner night where everyone raids the fridge.

Buy generic brands — name brands charge a premium!

Make a list when you grocery shop (don't buy random stuff).

Never shop when you're hungry (you'll buy stuff you don't need).
Wrapping Up
I hope this article has given you some practical ways to save money on food. I'm certainly not telling you what to do — I love getting food delivered. But understanding your options gives you more control, which comes in handy during months when you're saving for a fun vacation or dealing with an unexpected expense. 
Bon appetit! 
Let us make your life easier
Meal plan like a boss from home or on the go with any device.
10 day money back guarantee for web purchases