This article guides users on how to set up and make changes to their diet and schedule using the mobileapp. If you are using thewebsite, please click here.
Set up your diet and schedule using the mobile app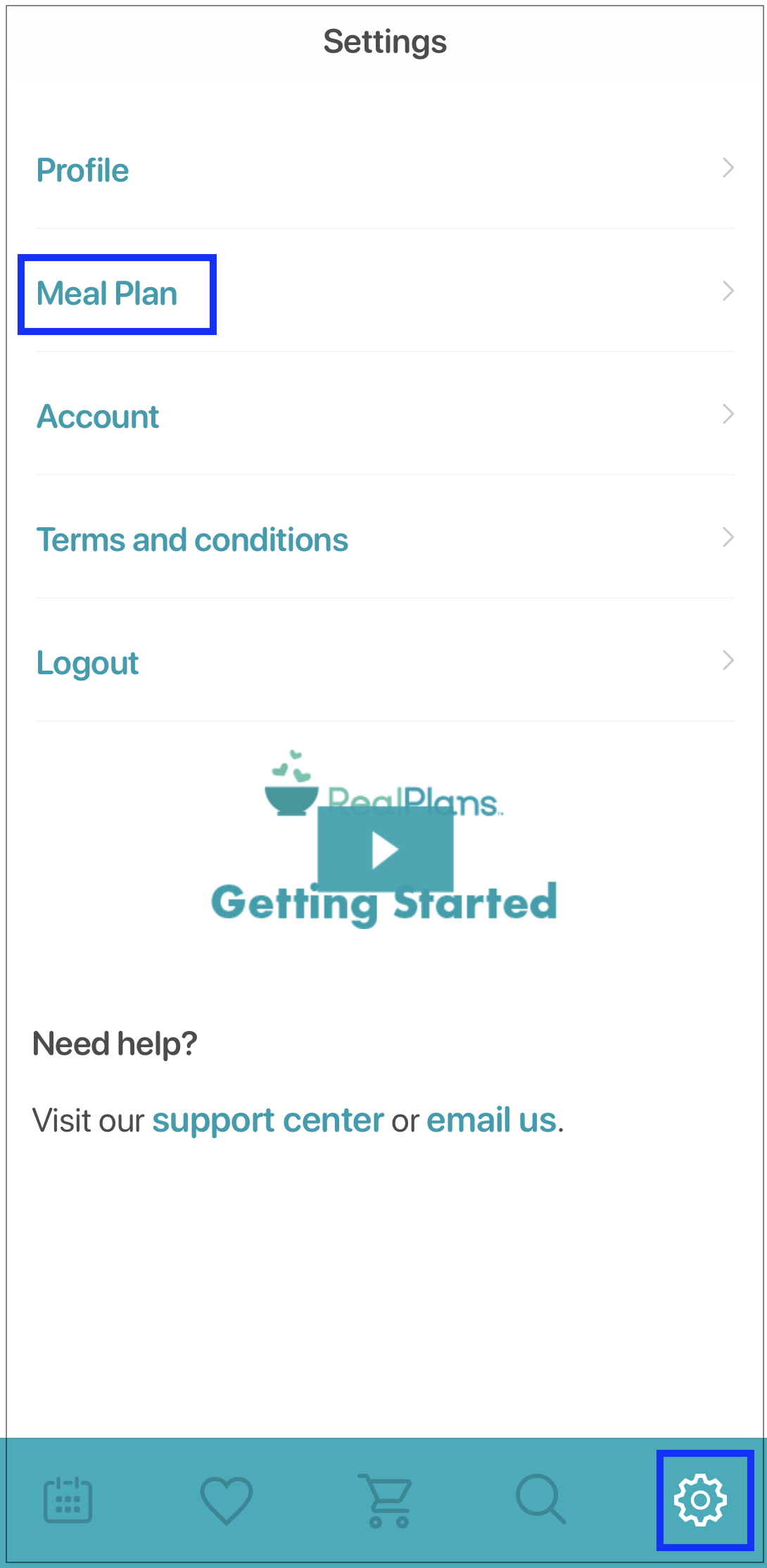 Set up your dietary restrictions
Click the gear icon (this is where you access your settings)
Click Meal Plan or Whole30 Meal Plan
Click on Diet and Schedule

Change default servings, if necessary
Select the desired diet type from the drop down menu

Real Plans will automatically make your meal plans fit your selected diet type, but to exclude additional foods, clickAdvanced dietary restrictions

To exclude an entire food group:

Click on each food group you want to exclude
Click on Continue at the bottom of the screen
Clickherefor a detailed explanation of each food group

To exclude an individual ingredient:

Enter the food you wish to avoid in the box under "Search ingredients"
Click on each individual ingredient that you want to exclude
Click on Confirm exclusions at the bottom of the screen

Pro tips:

Excluding foods reduces the number of recipes available in your Recipe Box
If you need to exclude nightshades from your diet, be sure to exclude both nightshades and potatoes (sweet potatoes are not nightshades)
We recommend not excluding foods for which you have a good substitution or could easily omit. Here is a list of ourTop 20 Ingredientsthat we recommend not excluding.

Set your start date for your Whole30

This option is only visible if your diet type is Whole30

Set the length of your Whole30 (30 days is default)

This option is only visible if your diet type is Whole30
Set up your schedule
Determine if you would like for Real Plans to create the meal plans for you.
Toggle Automatic Meal Plans to on if you would like the meal plans to be automatically created for you based on your personal dietary restrictions and schedule
Toggle Automatic Meal Plans to off if you prefer a blank meal plan so that you can manually schedule recipes of your choosing
Toggle macro-driven plans to on if you would like your automatic meal plans to be based on your specified macros

This option is only visible if you have the Macro Tracker add-on subscription
Macro-driven meal plans use a pre-set schedule, so you are not able to customize the schedule with this function
Set up your basic schedule
Select how manydinnersyou will cook each week

Use the slider to select the number of recipes that will be cooked for dinner during the week

Check the box next to

Do you want enough for leftovers?

if you would like the meal plan to use leftovers for some of the meals

Note:Leftovers will be scheduled during lunches and/or dinners based on the number of dinner recipes selected

Select the appropriate number forHow many extra leftover portions would you like to make?

This is the number of extra portions of each dinner recipe that you want to make

Select the appropriate number forOver how many meals do you want to spread these leftovers

This is how many meals each dinner recipe will be used for a leftover

Select thetypes of mealsthat you want scheduled forlunches and breakfasts

Select

how manylunchesandbreakfastswill be needed each week
ClickUpdateif you are done making changes.
A new meal plan will be created for you using these basic scheduling settings. However, sometimes you may decide you want a little more control over your schedule. If so, you can create a customized schedule to fit your needs.
Customize your schedule
If you want to customize your meal plan further:
To completely customize your schedule, click on

Customized Scheduling

Note:Customizing a schedule will override all of the basic scheduling settings explained above

Select the days you want a meal scheduled

Toggle the meals you want scheduled to green
Toggle the meals you don't want scheduled to white

Customize the schedule using filters
Add notes

Add any notes that you want repeated on a specific meal each week
Save changes
ClickContinue to save your changes
Confirm your changes
Update my plan

Applies your changes to the current week and future weeks
This removes all of the recipes on your meal plan, including the current week, and schedules all new recipes using your new settings

Update my future plans

Applies your changes on the following week's meal plan
The current week will not change
If you need assistance, please send us an email at support(at)realplans.com.