If your favorite blogger has a new recipe you'd like to try, simply copy the link in the address bar on the page that contains the recipe you want to import.

Head to your Recipe Box, and select "Import Recipe".

Paste the website URL into the text box and click on "Import".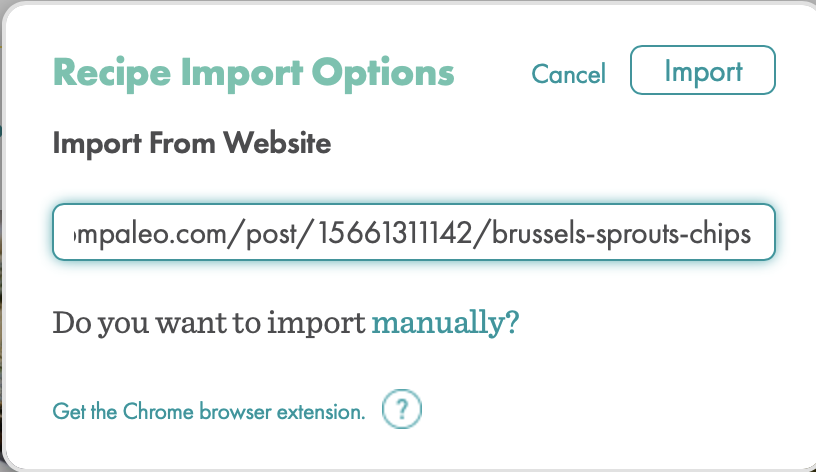 You will be prompted to select an image. This will be the picture that will show up in your Meal Planner to represent this recipe. Once you have clicked on the image you wish to use, click on "Select". You will then be prompted to crop the photo so that the desired image fits in the box. Click on "Done Cropping". Your new recipe's profile picture has been created!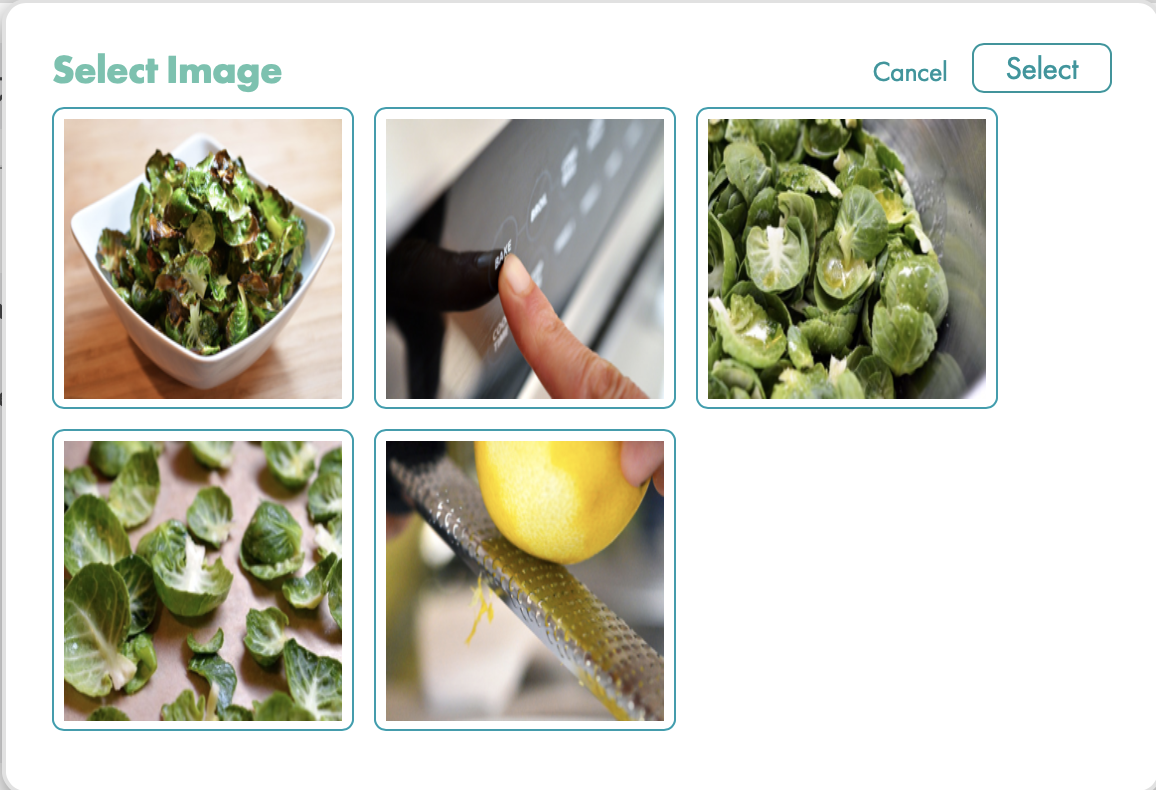 In most cases, the recipe title, ingredients, and preparation instructions will automatically be prefilled into the recipe card. If this does not happen, you can simply copy and paste them where they go on the recipe card.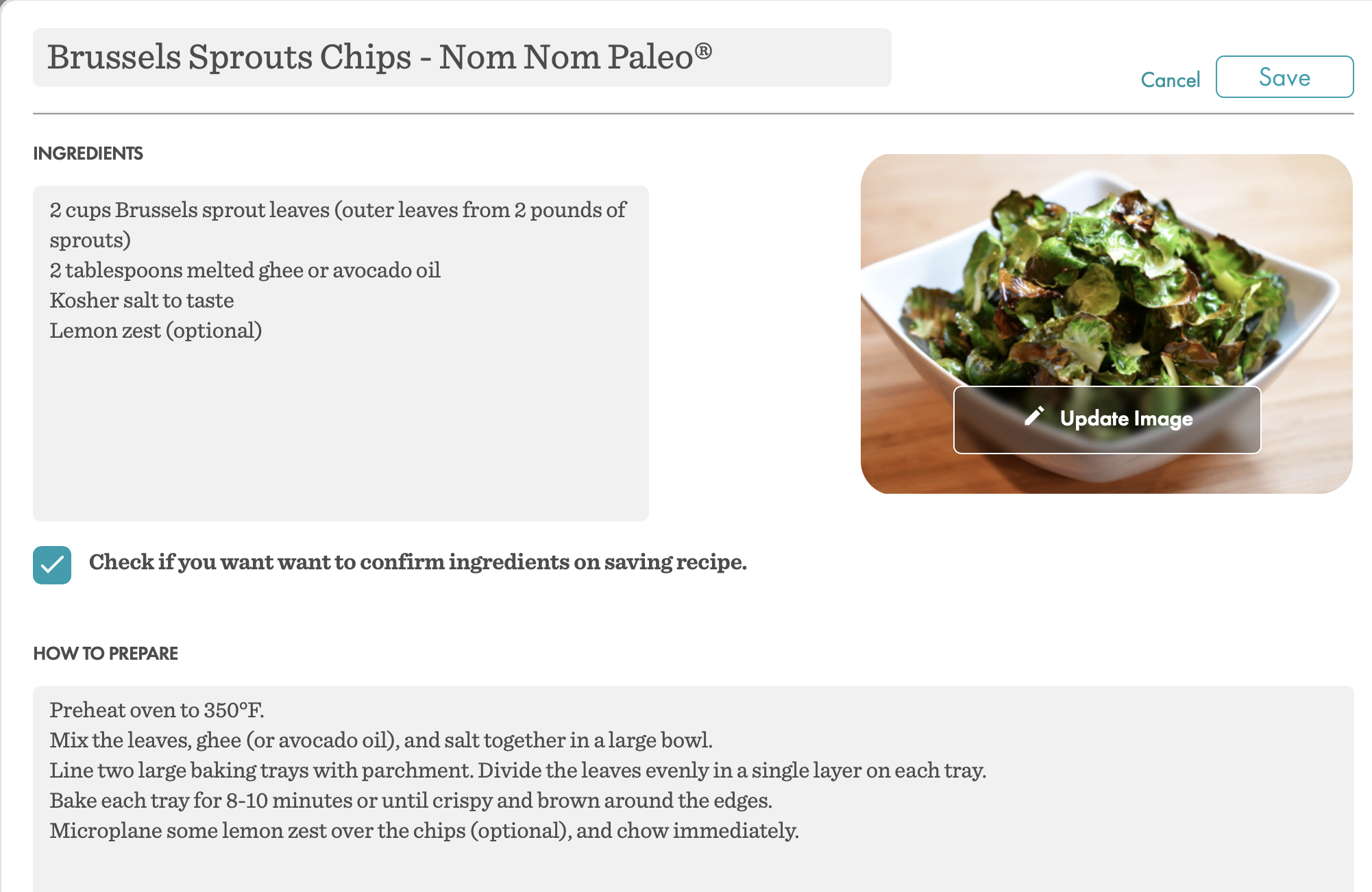 Fill in the prep time and total time needed for this recipe, as well as the number of servings it makes. If you want this recipe to show up in your weekly meal rotation, or if you want to search for it in the Recipe Box using filters, you will need to tag the recipe by Season, Diet Type, Course, and Main Ingredient. You can also go ahead and select the appropriate tags, cuisine, and meal size, if desired.

If you think this meal would be great paired with a soup, for example, click

next to "Serve with" to select a recipe that you would like to serve with this one. Click "Add". (This step is optional. You do not have to choose a "Serve with" recipe to complete the importing process.)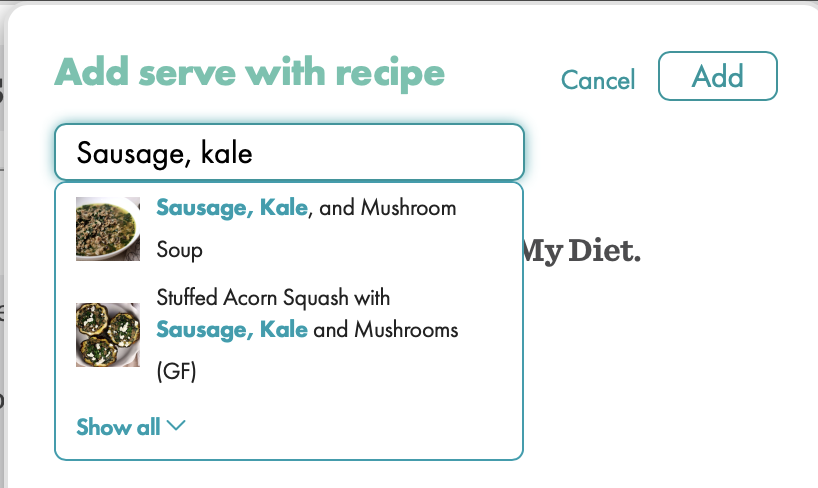 Enter any notes you may have about the recipe and how you want the timeline instructions to appear (if you want to make this the night before, for example). Click here to learn more about timeline instructions.


When all of the information has been entered, click "Add". Check over your entries, and click "Save" in the upper right corner of the recipe card. You will be prompted to confirm the ingredients using our ingredients parser.

The ingredients parser will help make sure your recipe gets imported accurately. Items in red need attention. Check to make sure there is a quantity and unit of measure for each ingredient, with the exception of "salt, to taste", for example. This will ensure your shopping list is accurate and that macronutrients get calculated properly. This is especially important if you subscribe to our Macro Tracker. Make sure there is one number in quantity ("1" or "1/2" but not "1-2"). Use the dropdown arrow to select or change the unit of measure. For items like 1 avocado or 3 zucchinis, you can use "each" or "large" (or other size) as the unit of measure.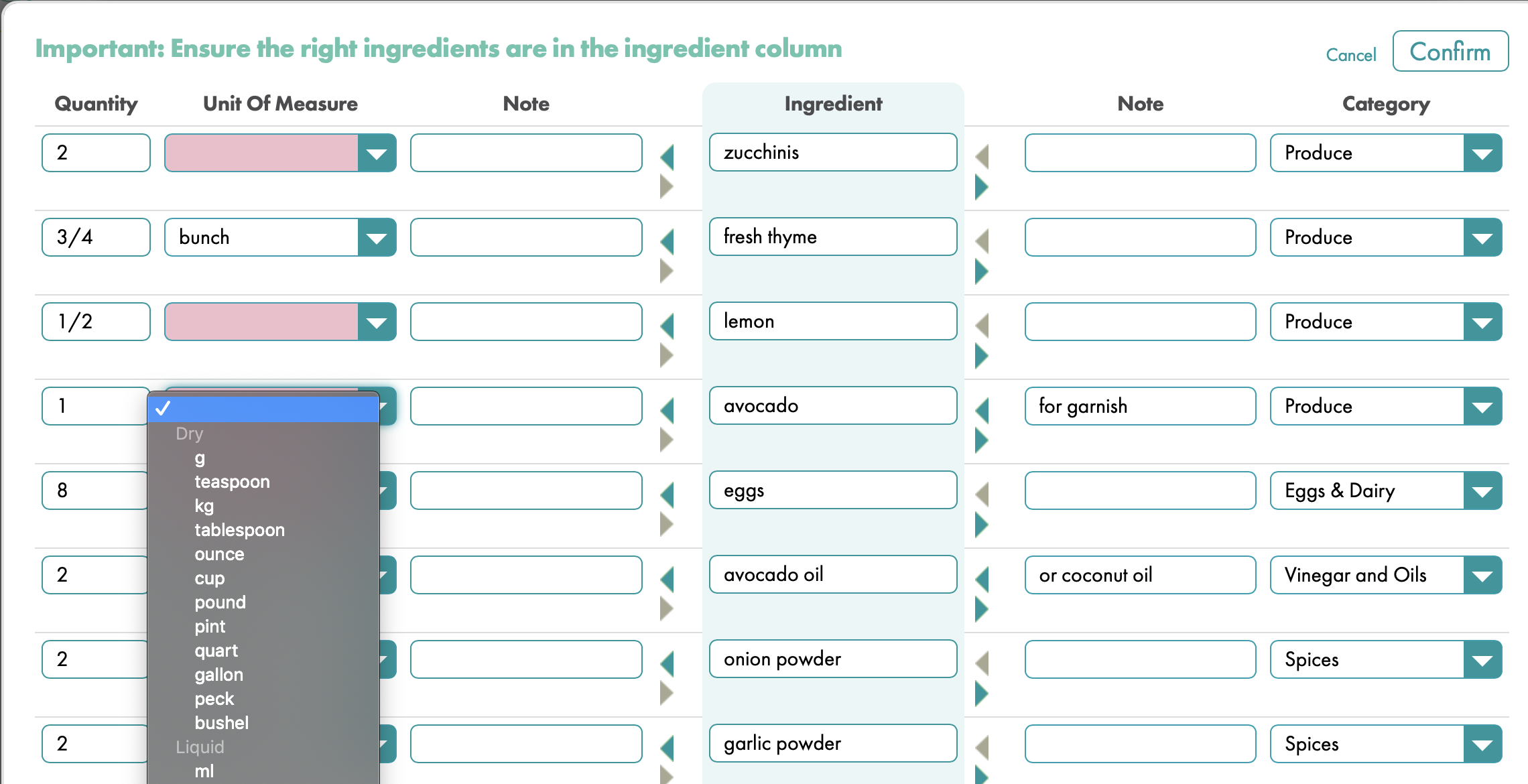 You can use the arrows between notes and ingredients to move things around to the appropriate places. If your ingredient got placed in the notes section, for example, you can use the arrow to shoot it over to the ingredients column, and vice versa. A note before the ingredient might be something like "firm", "filtered", or "cooked". A note after the ingredient will be separated by a comma and might be things like "sliced", "to taste", or "cut into small pieces", for example. Make sure the only thing in the ingredients column is the ingredient itself, placing notes in the appropriate columns as needed. You can add or change ingredients here by beginning to type the ingredient in the ingredient column and selecting the appropriate ingredient from the dropdown that pops up.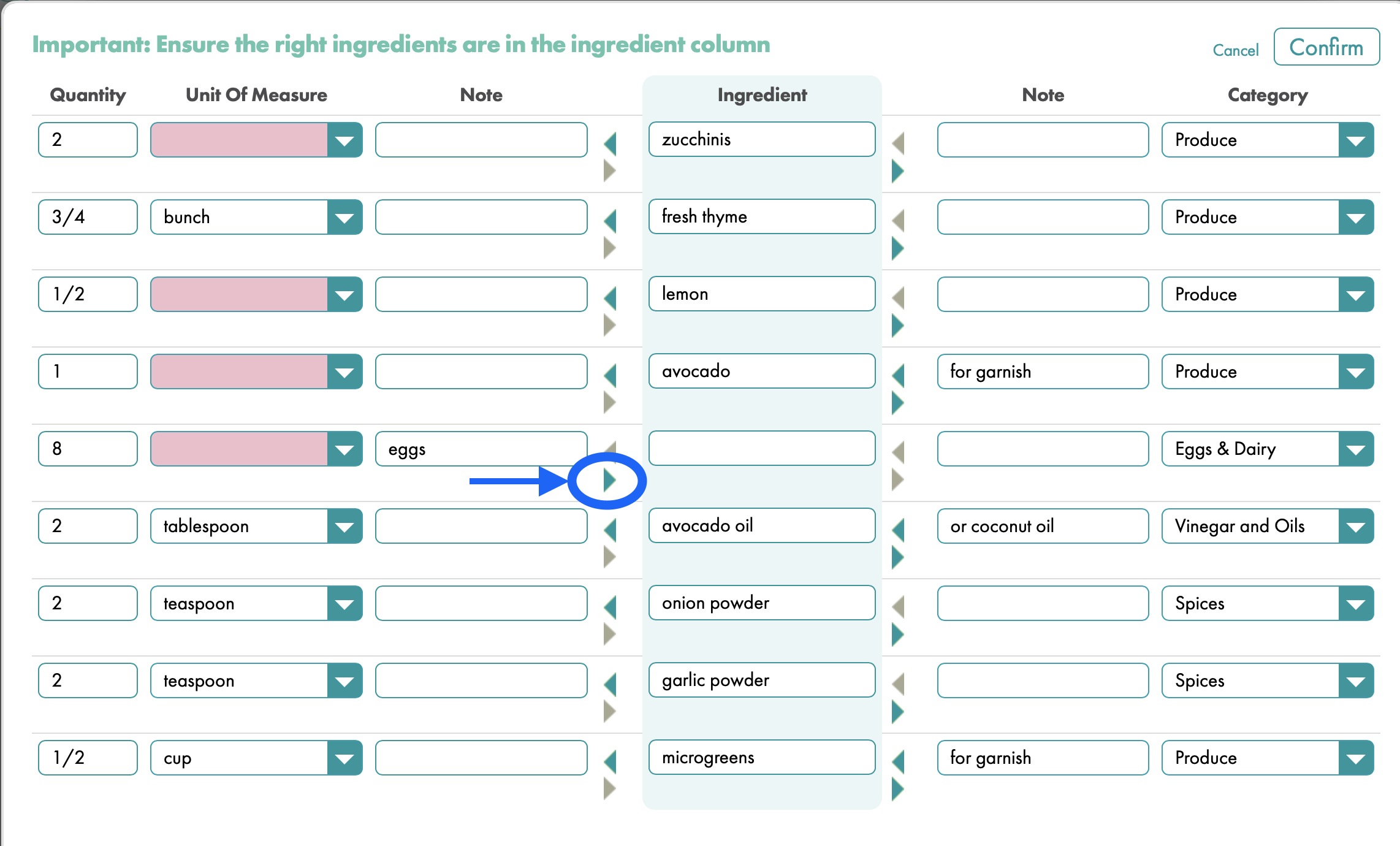 Check the category for each ingredient to be sure it matches. For example, the ingredient "avocado" should be in the "produce" category and "olive oil" should be in the vinegar and oils category. You can use the dropdown arrow to select the correct category for each ingredient. This will make sure everything is in the right place in your Shopping List.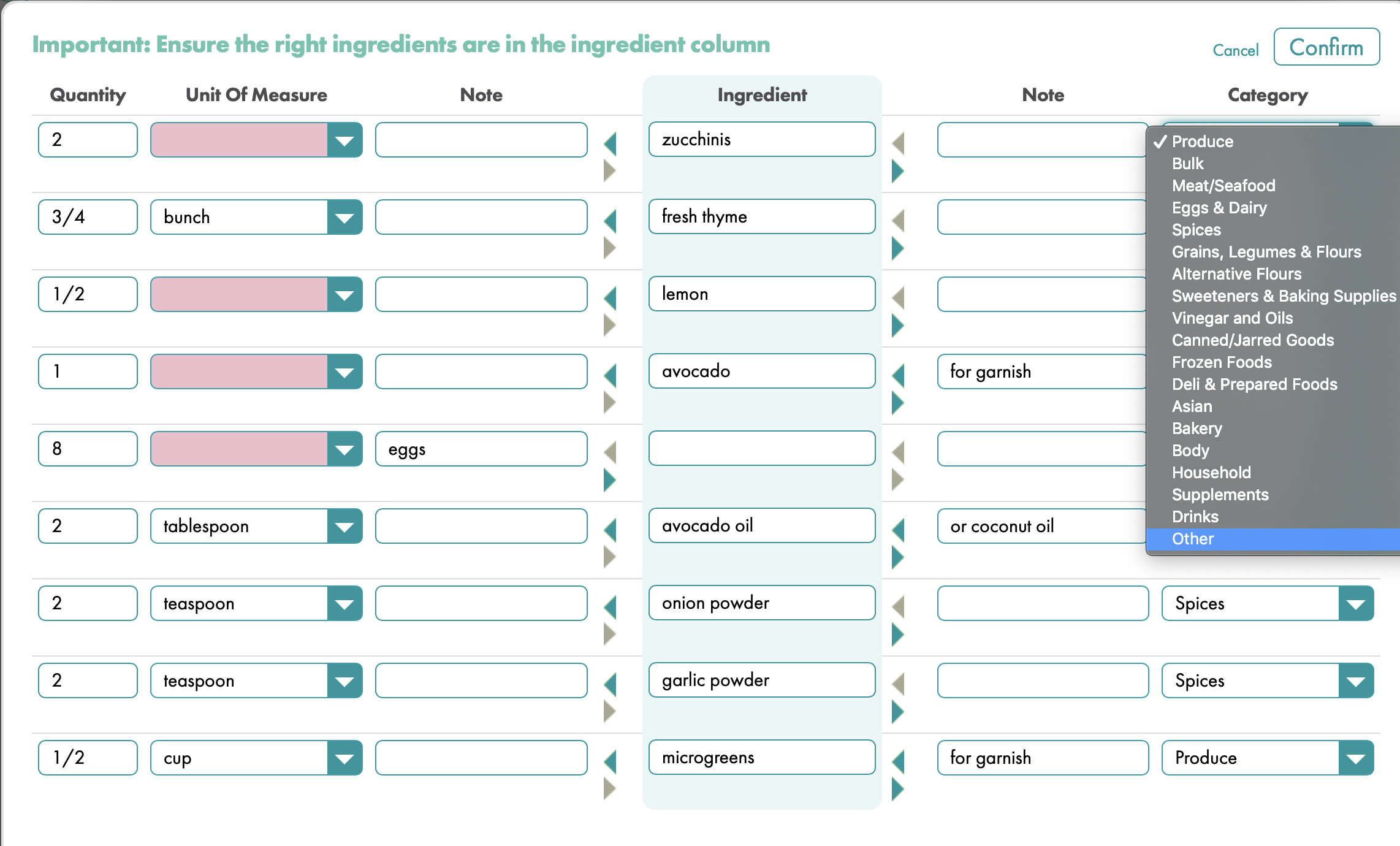 Click "Confirm" when it all looks right. Congratulations! You have imported a recipe!
The recipe you imported will automatically open. Look it over to be sure everything is right. If everything looks good, you can click on "Actions" and then the calendar icon to schedule this recipe into your Meal Planner, or simply select "Close" if you are done with the recipe for now. If the recipe needs editing, click on "Actions" in the upper right corner and then select "Modify" to make corrections.
Manual Importing
To import a family recipe or a recipe you created, begin in the same way by clicking "Import" from the Recipe Box, but this time, select "manually".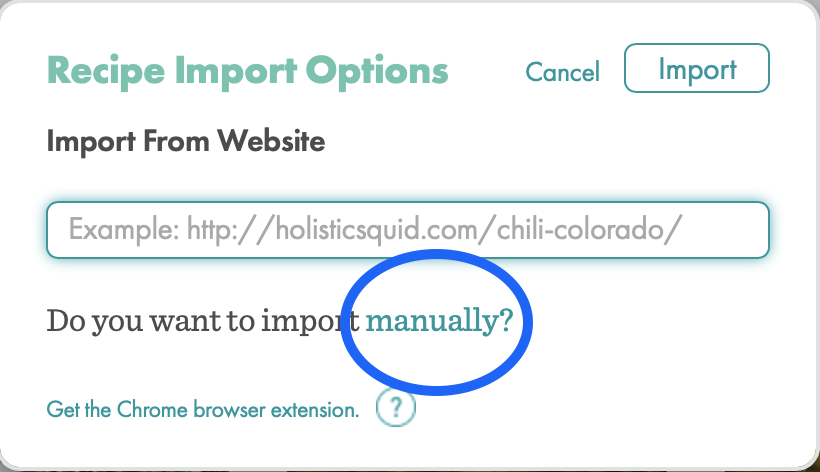 A blank recipe card will open for you to input your own ingredients and instructions. Fill out the recipe card with a title, ingredients list, and procedures to follow. You can also add your own picture of the recipe, if you would like. Enter the correct preparation time, total time, and number of servings this recipe makes on the left side of the recipe card. Be sure to fill out the fields for Season, Diet Type, Course, and Main Ingredient in order for this recipe to be automatically generated into your Meal Planner. Click "Save" when finished and confirm your ingredients as directed above. This recipe is now in your Recipe Box and will show up in your weekly meal rotation.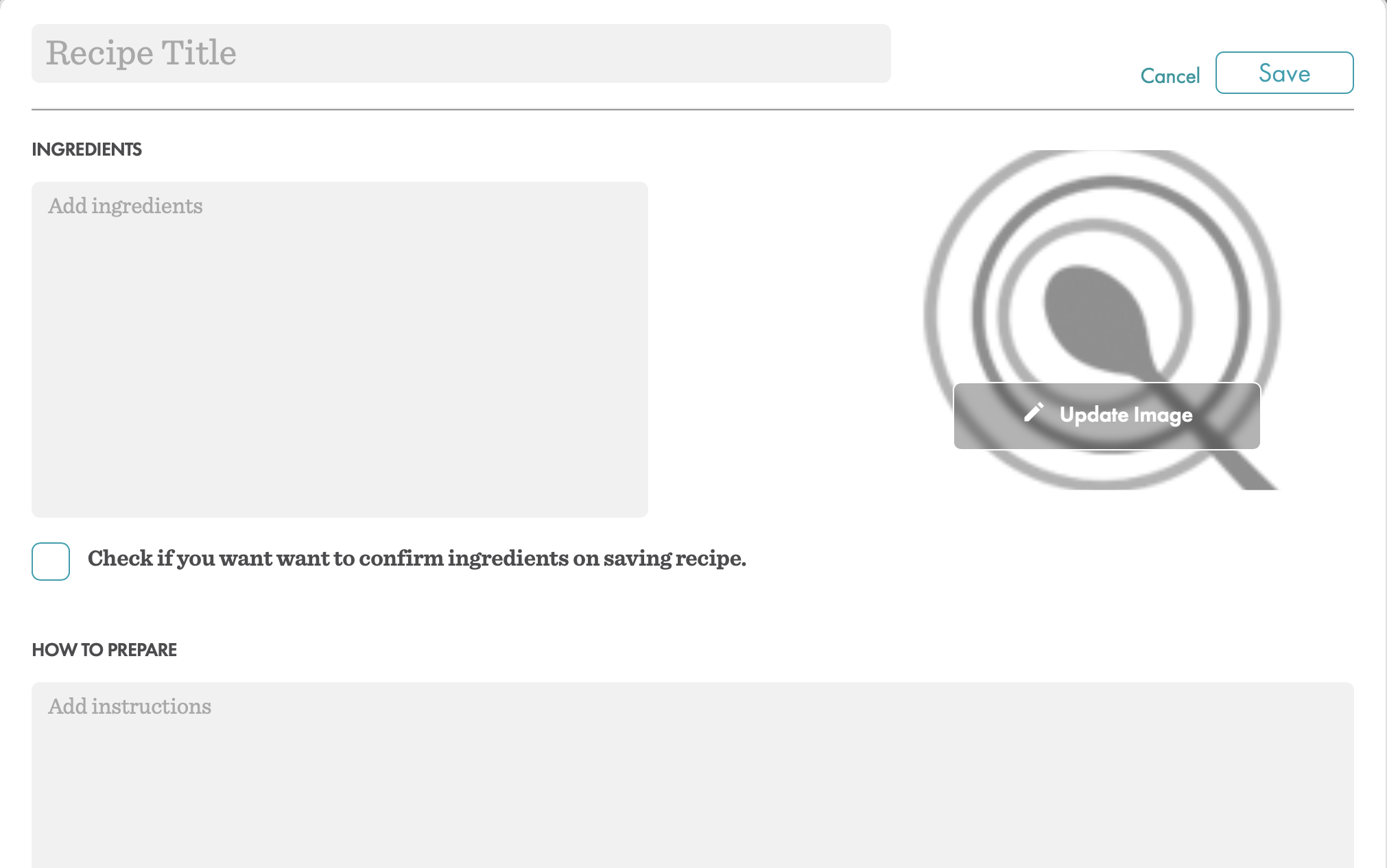 Helpful Hints:
Bullet pointed ingredients lists and numbered directions work the best. Select the URL that is not the printable version of the recipe(URL ends in "/print" for the printer-friendly version) for best results.
On occasion, an ingredients list may not be compatible, and you could receive an error message. If that should occur, check the ingredients list for some of the following issues:
Be sure you have a quantity and a unit of measure.
"1 whole chicken" works best rather than "1 chicken".
"4 pounds ground beef" works, whereas "3-4 pounds ground beef" would not.
Be specific. Rather than listing one can or one package, specify ounces or pounds needed.
Fractions should be listed as 1 1/2 rather than 1+1/2.
Look for large spacing between the quantity and the ingredient. "4 pounds ground beef" should be changed to "4 pounds ground beef".
If you have checked all of these things and are still having trouble getting a recipe to import, please come chat with us, along with the recipe you are trying to import, so we can help. You can also email us at support at realplans dot com. Please include the link to the recipe you are trying to import.
Bonus Tip: If you use Google Chrome as your browser, you can import even faster with the Real Plans Google Chrome extension! Click here to find out how.
**Using the app? Click here to learn how to import recipes from our mobile app.**
Save