If you are using thewebsite, you will follow the steps below.If you are using themobile app, please clickhere.
Set a specific date range for your Shopping List
Open your MealPlanner
ClickShopping List
ClickActions
Select Custom Date Range from the dropdown menu
In the window that opens, click on the calendar icon

Use the calendar on the left to specify the first day of the period for which you want to shop
Use the calendar on the right to specify the last day of the period for which you want to shop
Click Apply

The dates will be updated in the Custom Date Range field
Click Select
A new shopping list for those dates will be displayed

The date range that you specified is shown next to the Actions button

Note:This is a temporary Shopping List for the date range that you selected. When you exit this custom list, your Shopping List will revert back to the current week's list. Click here to learn how to print your shopping list.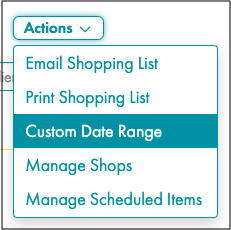 If you have any questions, pop into chat during our normally scheduled chat hours, or send us an email at support(at)realplans.com.Save