The Truth About Leftovers
When it comes to leftovers, there is nothing to fear. In fact, once you get the hang of incoporating them into your weekly meal plans, you'll realize how much time and money you can save. Not to mention, another major benefit is their versatility. Instead of thinking, "I don't know what to do with these leftover vegetables!", consider using other foods you already have on hand to create another meal with them.
The truth of the matter is it all comes down to making it through the learning curve. If keeping and reusing leftovers hasn't been your thing, there will be some things to learn. One of them is how to make the most of your leftover food, and the other is how to properly store them.
How to Properly Store Leftovers and Stop Wasting Food
Invest in proper food storage containers.
As easy as they may look, the simple plastic containers are the ones you want to stay away from when it comes to storing leftovers. Instead, go for a durable container that is leak-proof, seals air-tight, and allows you to see the contents inside. FineDine offers a 24-piece superior glass container set that tolerates rapid temperature changes, won't absorb stains and smells, and can handle going from the freezer to the oven (without cracking!). A little less expensive option would be the glass set made by Rubbermaid. Their set only comes with 14 pieces, but still offers leak-proof, BPA free, clear container options.
Refrigerate your leftovers within two hours after cooking.
Back in the day before refrigerators received their big upgrades, they could not handle heated foods. The heat from foods would cause the refrigerator to lose its cool (literally) and put other things at risk. Luckily, refrigerators today can withstand the temperatures of cooked foods, so you're safe to put your cooked food up within a couple hours after cooking it. Be sure to keep your oldest leftovers up front and use them first (known as the "first in, first out" rule).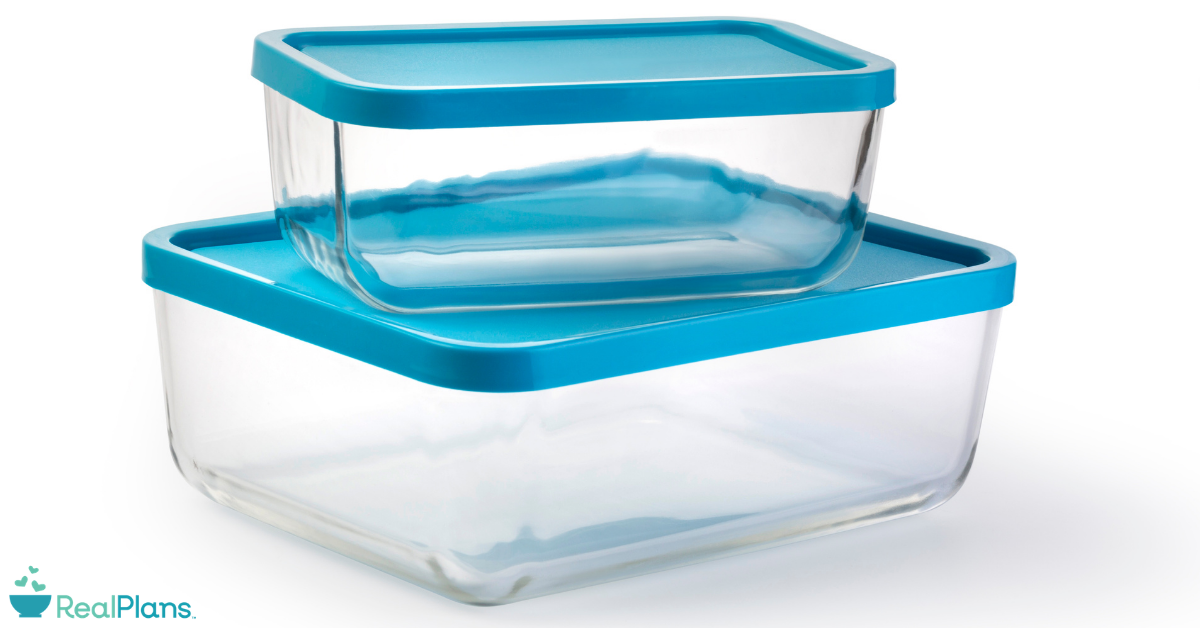 Don't use cans to store leftovers.
Foods like canned tuna, vegetables, fruits, etc. should not be stored in their cans. The residual metal on the rim can pour onto the food, leaving a metallic kind of taste. Also, not all metals are created equal and you can risk harmful metals getting into your system. Use a good food storage container (mentioned above) to store all leftovers.
Divide leftovers into individual containers.
Not only will dividing your leftovers prevent cross-contamination but it will also make it easier to grab, reheat, and use with another meal. The only time we recommend storing foods together is if you are meal prepping and taking it all to work the next day (for example). There are food storage containers that have individual compartments to keep foods from touching. These are ideal for quick grab-n-go moments.
How long can I store leftovers?
Ideally, leftovers can be should be used within three to five days after being refrigerated. If you are freezing them, you can safely store them for up to four months. Of course this all depends on the the type of food you are storing, so take that into consideration. To keep your leftovers from going bad, include them in your meal plan and schedule them for the very next day. If there are not enough to make a complete meal, shop your freezer, refrigerator and pantry for other items that can easily be paired with them.
Final Thoughts
Say goodbye to food waste and leftovers gone bad. Once you know the benefits of eating leftovers and how to store them, you're two steps closer to making them work for you versus against you. Next up we will talk about the best ways to reheat your leftovers – another important aspect to making sure you're getting the most from the meals you cook. Once you have all these tips and suggestions under your belt, leftovers will become your new best friend!