If you are trying to meal plan with picky eaters, you may have fallen into one of two traps: making two separate plans or diverting from the plan altogether. These ways may seem easier at the time, but honestly they can end up costing you more time and money. Contrary to popular belief, it's quite possible for families to share the same meal. Here are our top five suggestions to help you meal plan with picky eaters in mind.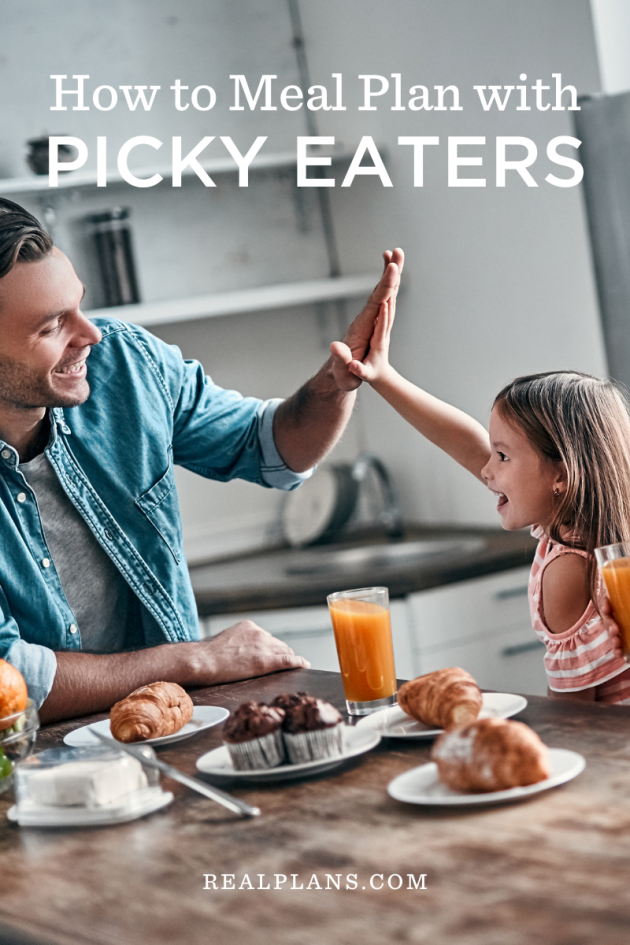 How to Meal Plan with Picky Eaters
Before diving into our tips let's talk about the goal of meal planning, especially with family members who rarely like what you cook. It's all about balance. Even if it seems impossible to get your kids to eat their veggies, there are ways to keep their bellies full and expose them to nutrient-rich foods. This is where intentional planning comes in to play. You can do it and we're here to help!
Write down what your picky eaters do like to eat.
This valuable step often gets overlooked due to the focus being placed on what they don't like to eat; however, this shouldn't be ignored and can be used for your meal planning benefit. Start by making a tangible list, giving each family member a column of their own. You may begin to see some similarities, as well as differences. Once you've generated the master "foods we love" list, begin to break it down into food groups. This is important if you're eating according to a specific diet, looking to  add certain foods, or cut out on others.
Use your "foods we love" list for inspiration.
Now that you have an idea of what your family would prefer to eat, you can use the list as inspiration for your meal planning. If your list is loaded with specific foods from a not-so-healthy food group, such as starch, then consider adding the foods sporadically but paired with something complimentary. For example, if your kids really enjoy pasta, go for the healthier whole grain version. They'll still get their pasta fix and a few valuable nutrients to go with it.
Another list-inspiration idea is to consider pairing several likes together. Let's keep going with the pasta-loving idea, but add your like for chicken, and your spouses love for vegetables. All of these can be combined into one delicious meal with everyone's preferences included!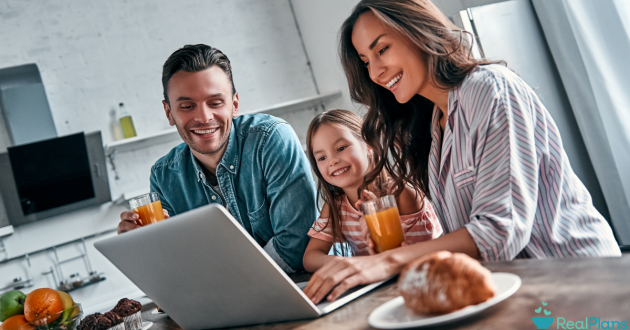 Get the family involved with planning the meals.
Believe it or not, even the youngest eater can help with meal planning. Set a day and time to call a meal planning family meeting and get everyone's input on what they'd like to have. Even if your toddler calls for ice cream to be added to plan everyday next week, at least you'll know where they stand all while allowing their little voice to be heard. This also gives everyone an idea of what each other likes to eat, as well as helps take the stress out of meal planning in general. This is great time to be creative!
Start slow and small.
Instead of jumping into planning three meals per day, seven days a week – consider starting with just one meal per day. Most families find starting with dinners makes the transition into adding other meal times much easier. Once you've gotten into the habit of planning for dinner, add another meal, such as breakfast. The overall goal is keep the process from being stressful and overwhelming.
Use every meal to your family's advantage.
With intentional meal planning you can learn how to use every meal to your family's advantage. Instead of pulling teeth to get your picky eaters to eat, opting out for take-out the last minute, or throwing away a bunch of leftovers, use these quick tips to make meal planning work for you:
Include more options
Cook once and eat twice.
Grocery shop according to the plan.
Build a go-to recipe collection.
Create themed meals.
Make memories by putting all hands on deck.
Final Thoughts
While creating a meal plan with picky eaters can seem like a daunting task, it truly doesn't have to be. In most cases, picky eaters won't stay "picky" for long and could be experiencing something we all go through. Sometimes it's texture, taste, or smell that turns kids (and adults) away from eating something, so give you and your family an extra dose of patience. Use the suggestions above and take time to figure out what works specifically for your family's unique dynamic. Nothing has to be written in stone and sometimes you may have to switch things up.
Not to mention, don't hesitate to get support. Having a good meal planning software is a great place to start! This will not only boost your meal planning skills but also make your shopping easier, save you time and money, avoid food waste, and more! Here's to being confident in creating meals plans with your picky eaters in mind!