A meal planning app that does the work for you
We plan your meals, remind you to prep food, and keep track of what you need to shop for. But if you don't need all the bells and whistles, we'll give you our printable meal plans FOR FREE. Yes, free.
You won't be able to adjust for family size, kitchen tools, or food restrictions. But – hooray! – you will have a full month of paleo meal plans.
What you get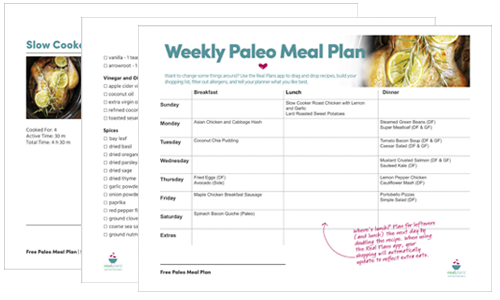 4 full weeks of meal plans
5 recipes for breakfast
10 recipes for dinner
2 weekend recipes to get you ready for the week ahead
SaveSave
SaveSave
Get my plan
Here at Real Plans, we've devised a system that allows you to dial in your weekly menu according to dietary restrictions, family size, ingredient preferences and even your kitchen tools. But what if you just want something simple to get you going? Enter our new free meal plans.
Drop your name and email below and we'll instantly send you your first FREE meal plan. No strings attached. No bamboozle.
You'll receive 4 weeks of free printable meal plans to your email.
Each week you get: 5 recipes for breakfast, 10 recipes for dinner, and 2 weekend recipes to get you ready for the week ahead.
We've also included a timeline and shopping list. That way, you remember to pull the beef out the freezer. And say goodbye to those last minute runs to the the market. You already have everything you need.
Why meal plan?
For that feeling when you know exactly what's for dinner.
Not to mention the pennies you save (yes, those last-minute snacks really do add up).
Meal planning helps you figure out what to eat and makes you a smart shopper, saving you time and money. When you let someone else do the planning for you, you can breathe a little deeper and do something special with those extra minutes.
A mani pedi perhaps?
Want even more?
While most people try to do it all – including orchestrate a home-cooked paleo meal each night – you've got a secret kitchen gadget in your back pocket.
Psst – That's us.
When you subscribe to Real Plans, you get access to a customizable planner. It does everything you need it to do from the convenience of your smartphone or your desktop computer.
Eggs are a no-go on your paleo diet? Running out of cat food or need more dish soap?
Let Real Plans know and allow the app to work for you. 
You deserve it. Don't you?
The choice is yours. You can continue to feel paralyzed when your kids ask, "What's for dinner?" Or, you can change the way you do mealtime. Make it fun. Make it easy. Make it Real Plans.
Subscribe to Real Plans now
Traditional, Paleo, AIP, Vegetarian, Gluten-free and Dairy-free plans available
Our 30 day money back guarantee makes Real Plans RISK FREE