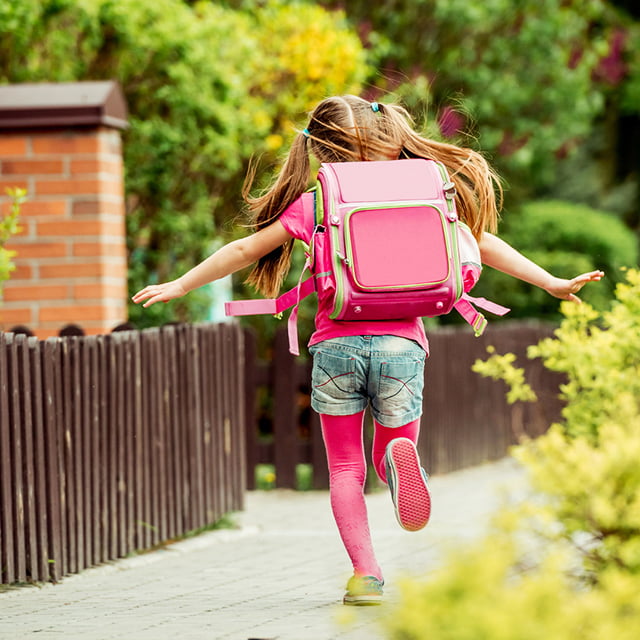 If you're like the rest of us, you drag yourself out of bed , shuttle the kids off to school, and then throw back a cup of coffee before heading (or getting) to work. Mornings can be a busy time. But that's no reason to skip breakfast. With a little planning, there are plenty of breakfast-worthy foods that you can have on hand, ready to go. Sweet or savory. Fruity or green. Grain-filled or grain-free. All of them good for you. Here are nine vegetarian breakfast foods that store and travel well.
Grain-free Savory Breakfast Muffins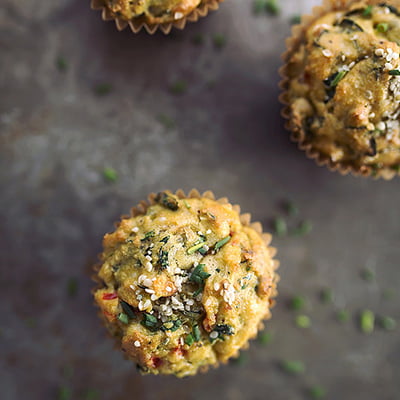 What would a roundup of breakfast snacks be without an eggy muffin? These grain free muffins use a bit of coconut flour and arrowroot as their starchy backbone. Held together by eggs and surround by a paper baking cup, they become extremely transportable. Sort of like what you imagine would happen when an omelet meets a muffin tin. Simply add your favorite veggies, some fresh herbs, a sprinkle of cheese – and you're good to go.
Click here for the grain-free savory breakfast muffins recipe.
Grain-free Zucchini Cacao Nib Muffins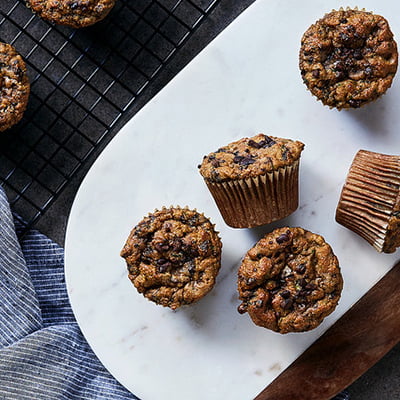 Zucchini cacao nib muffins use the recipe for breakfast muffins (above) and add a sweet twist. Which means instead of black pepper, chard, and shallot – you'll find maple syrup, coconut sugar, and cacao nibs. These muffins are still packed with everything good in pasture raised eggs and they even have some veggies in the form of zucchini. But they're sweet with a hint of morning zing, mainly from the caffeine in cacao nibs.
Click here for the grain-free zucchini cacao nib muffins recipe.
Lemon Raspberry Muffins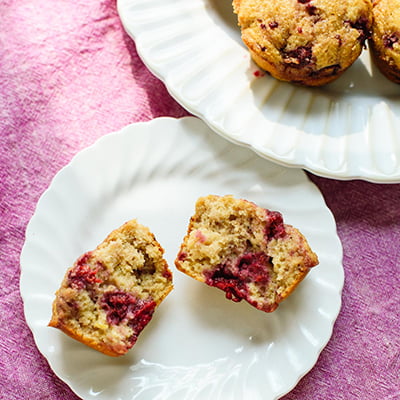 Really, these are essence of muffin. No weird, overly processed ingredients. Simple. Streamlined. And fancy in all the right places. Like whole wheat flour, coconut oil, honey, Greek yogurt, lemon zest, and a sprinkle of raw turbinado sugar. Like most muffins, these travel well and are a cinch to stash in your bag as you head out the door.
Click here for the lemon raspberry muffins recipe.
Lemon Poppy Seed Scones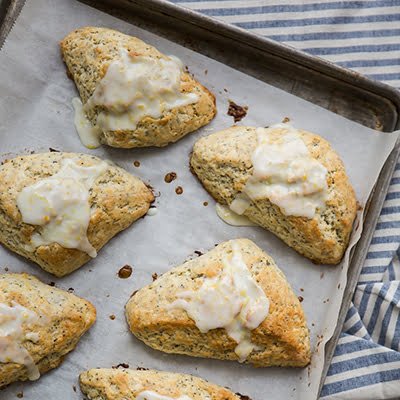 Scones for breakfast – possibly with tea? Scones have the reputation of a quick cake. They're leavened with baking powder instead of eggs. This means that to make a scone, you really only need flour, butter, cream, some kind of sweetener and the aforementioned baking powder. Easy! These scones are particularly special. The tart taste of lemon juice and the bright aromatics of lemon zest balance the natural sweetness of maple syrup.
Click here for the lemon poppy seed scones recipe.
Almond Coconut Granola Bars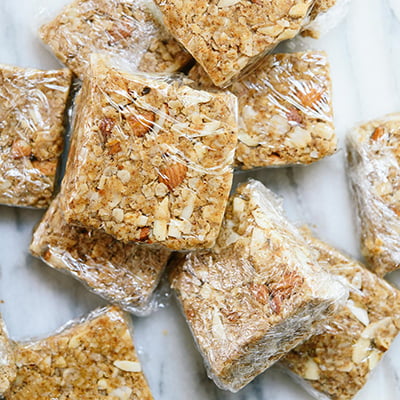 A snap to make – roughly fifteen minutes – and handy just about any time you need a quick bite. We all need a little more granola in our lives, no? The recipe says you can make these granola bars with peanut butter, if you're so inclined. So watch out, these may be slightly addictive.
Click here for the almond coconut granola bars recipe.
Vegetarian Breakfast Burritos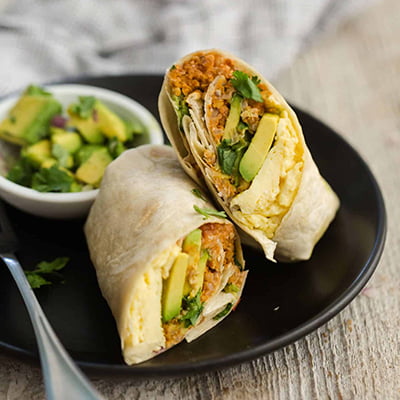 This one requires planning. If the idea of planning makes you groan out loud and whine on the inside, I promise – it is so worth it. The pecan chorizo spiced crumble makes this burrito sing. The nutty, smoky, spicy flavors do some kind of dance with chickpeas, brown rice, and pecans. And it's beautiful. Wrapped alongside eggs, avocado, cilantro, and roasted tomato salsa, one bite of your breakfast burrito and you know it's going to be a good day.
Click here for the vegetarian breakfast burritos recipe.
Spiced Chickpea Fritters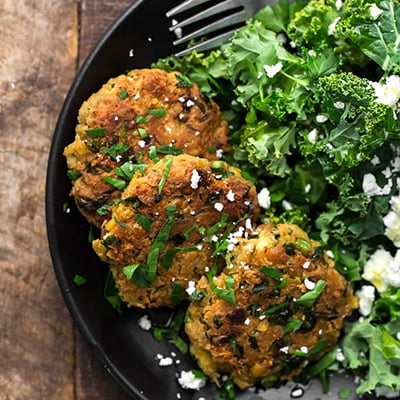 A fritter is a delightful pile of fried things. And with chickpeas at the helm, this fritter makes a filling breakfast that will help you sail smoothly through the day. If you decide to use dried chickpeas instead of canned, be sure to soak and cook them with baking soda. The addition of baking soda raises the pH (making their environment more alkaline) and helps to soften the tough outer skin of the chickpea.
Click here for the spiced chickpea fritters recipe.
Quinoa Potato Cakes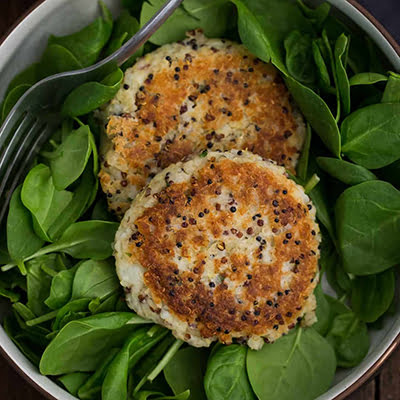 Not every breakfast bite needs to be sweet. A simple recipe of eggs, quinoa, and potato, these cakes are bound to keep you fueled throughout your day and are oh-so-transportable. Make these ahead of time and pack with you for breakfast on the go or a quick snack.
Click here for the quinoa potato cakes recipe.
Grain-free Spicy Cauliflower Fritters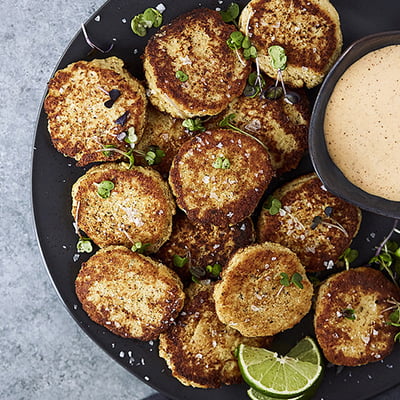 Another fritter. Another reason to fall in love with cauliflower. Instead of traditional wheat flour, these fritters call for a blend of almond flour and coconut flour. Held together with egg and spiced with chipotle or smoked paprika, you'll take one bite of these crunchy morsels and promise yourself cauliflower fritters forever more. Yes, they're good. And you can eat 'em with one hand.
Click here for the grain-free spicy cauliflower fritters recipe.
What are your favorite vegetarian breakfast foods for a busy day?
Tag us! #realplans