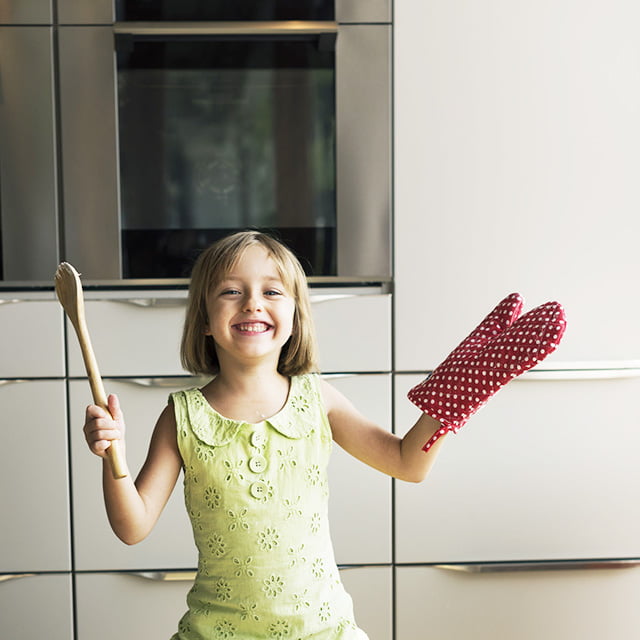 You may have mastered your spiralizer and perfected imposter pasta, but what about when hunger strikes between meals? With gut and immune health front and center, snacks on the autoimmune paleo diet are best had in moderation.
Here are ten AIP-friendly snacks to make, enjoy, and – if needed – pack up and enjoy on the go.
Bacon-wrapped spiced pumpkin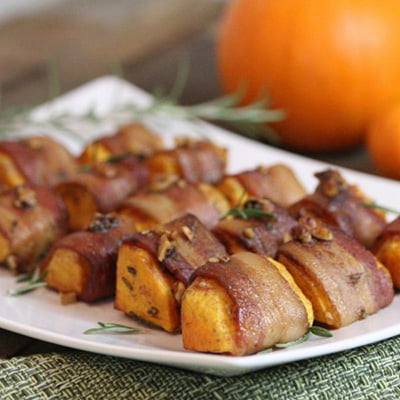 There's little you can do to make bacon better. All on its own, it's awesome. But if you're looking for creative ways to enjoy meaty slices of heaven, try using it to wrap winter squash. Pro tip: You'll get the crispiest crunch if you make your wrap tight, avoid overlap, and use uber thin strips of bacon.
Get the bacon-wrapped spiced pumpkin recipe here.
Nut-free paleo chewy granola bars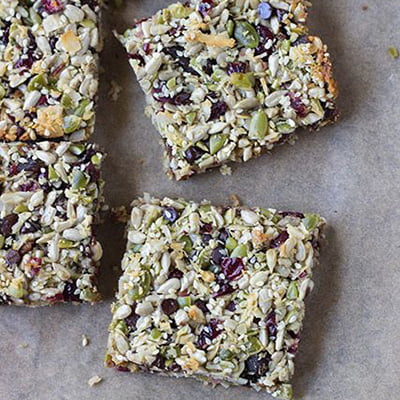 Nuts may be a no-no. But on the autoimmune paleo diet, seeds tend to be totally okay. Just be sure to check in with your body and the messages it sends. This recipe also calls for eggs, another food to approach with caution, especially if you shows signs of sensitivity.
If you can jam with seeds and eggs and have a hankering for sweet, nutty treat – whip up a batch of these chewy granola bars. Keep them in the fridge for a quick snack.
Get the nut-free paleo chewy granola bars recipe here.
Sweet potato chips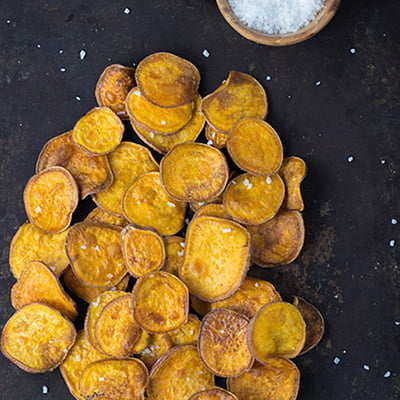 Sure. You can buy 'em at the store. But if you have palm shortening and sweet potatoes on hand, save yourself a trip and make your chips at home. Other fat that you can use for frying include refined coconut oil – which has a higher smoke point than unrefined – and animal fat such as lard or tallow.
Get the sweet potato chips recipe here.
Beet and kohlrabi greens chips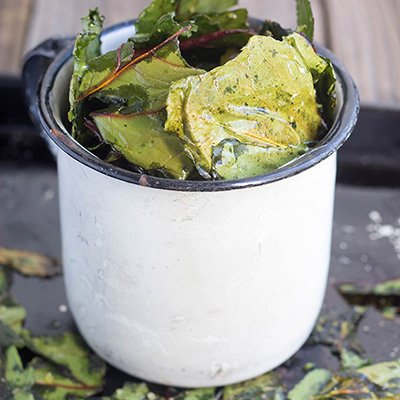 Kale isn't the only dark leafy vegetable that you can turn into a chip. Collards work. Chard too. And if you have a habit of throwing out your beet or kohlrabi greens, keep them. They deliciously crunchy when massaged with coconut oil and baked until crisp.
Before baking and after rinsing the sand off your greens, make sure you dry them well. No, excess water won't evaporate in the oven. You'll only end up with a soggy chip. One more chip tip: Enjoy these right away, crushed over salad, soups, or stir-fries for a pop in texture.
Get the beet and kohlrabi greens chips recipe here.
Nana's rhubarb coffee cake

Ah, cassava flour. You make so many dreams come true. Including this compliant version of Nana's rhubarb cake. If you've never had rhubarb, its red stalks taste tart and frequently show up in pie, tarts, and crumbles. In season from spring to summer, you can also use frozen rhubarb if necessary.
Note: This recipes does call for egg, which typically doesn't fly on the autoimmune paleo diet due to an enzyme that irritates the lining of the gut. If eggs trigger a response, try using one of these compliant paleo binders.
Get Nana's rhubarb coffee cake recipe here.
Garlic rosemary plantain crackers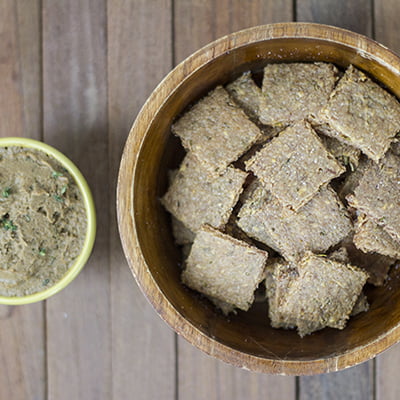 Wondering what delicious things you can do with plantain? These crackers come to mind. With only five ingredients, they're a snap to make. They also store well, keeping their crunch long after you've pulled them from the oven.
Enjoy on their own, as a vessel for pate, or with a flavorful dip – like the roasted garlic cauliflower hummus below.
Get the garlic rosemary plantain crackers recipe here.
Roasted garlic cauliflower hummus
When steamed, cauliflower blends up beautifully and you can use it as a base for AIP-compliant creamy soups and thickened gravy. When combined with lemon and roasted garlic, it closely mimics the flavors of hummus…without the chickpeas, sesame seeds, or paprika.
Enjoy with raw sticks of veggies, spooned over stews, or with the garlic rosemary plain crackers above.
Get the roasted garlic cauliflower hummus recipe here.
Pumpkin spice granola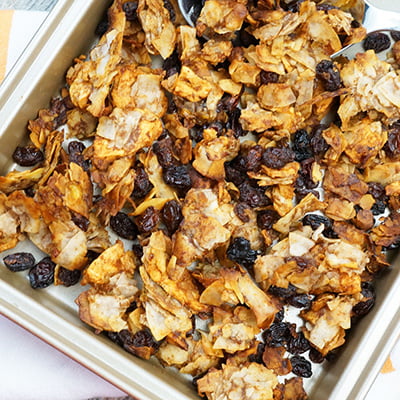 Banana is a binder. Like plantain and yuca (also known as cassava), the starch and fiber in these foods holds everything together. And with flecks of dried coconut, apple rings, and bits of raisin, you need something like banana to make this granola work.
When making, avoid the urge to add pumpkin pie spice – which contains non-compliant nutmeg – and use the spices listed. To keep your granola crispy, store in an airtight container in the fridge.
Get the pumpkin spice granola recipe here.
Fruit cake bites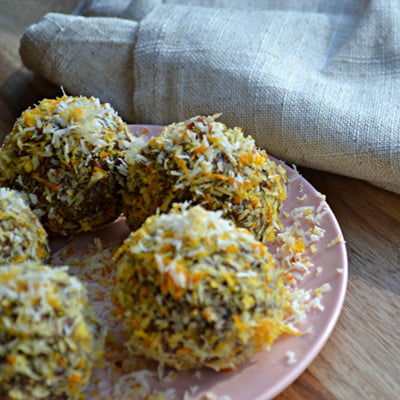 Even though fruit cake may be the ultimate holiday tradition, notes of orange zest give these bites a lightness that works all year round. Made with dried fruit and shredded coconut, these cake bites store well and satisfy the craving for a sweet snack. What's more, they take all of ten minutes to make.
Get the fruit cake bites recipe here.
Lemon-raspberry gelatin gummies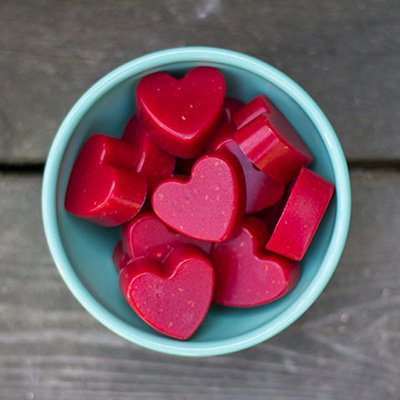 With gut health at the epicenter of almost every autoimmune flare-up, you want to do good things for your digestion. And gelatin is a fascinating supplement that does just that, giving you a boost in health-promoting amino acids like proline and glycine. Its versatility in the kitchen makes it handy as a binder or just the thing for a fun treat, like these lemon-raspberry gummies.
If you prefer a silky smooth texture, be sure to strain your lemon juice and raspberry pulp before heating in a saucepan. And if raspberries are tough to find, try strawberries or blackberries.
Get the lemon-raspberry gelatin gummies recipe here.
What are your favorite snacks on the autoimmune paleo diet?