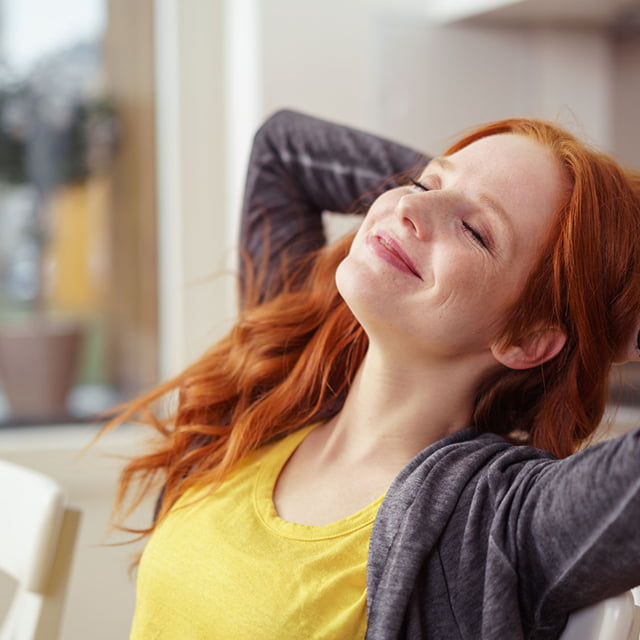 As the list of autoimmune disorders grows, the number of people seeking recovery with the help of an AIP diet also grows. Basically, an autoimmune disorder is when your body attacks itself. The AIP diet limits certain foods to reduce inflammation so that the body can heal. You can read more about the AIP diet here: What is the AIP diet?
Although the AIP diet requires a fair amount of planning ahead to do successfully, the relief from symptoms makes it worth the effort. And think of all the foods you CAN eat: a large array of fruit and vegetables, all kinds of meat and fish, some root-based flour alternatives, and even a few sweeteners for special occasions.
There are many easy, nourishing AIP diet friendly meals that make cooking and mealtime fun. Here are five easy meals for a week's worth of dinners.
 Hearty Irish lamb stew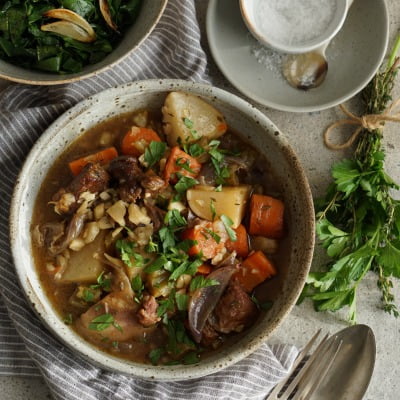 Stews are a no-fuss meal that you can put together and let bubble away merrily for a bowl of comfort. This stew uses celeriac and turnips to replace barley and potatoes, for a stew so delicious you'd never guess it had been adapted to be AIP. Stew is also a great way to get more of gut-healing bone broth in your day.
Get the hearty Irish lamb stew recipe here.
Tourtière-inspired shepherd's pie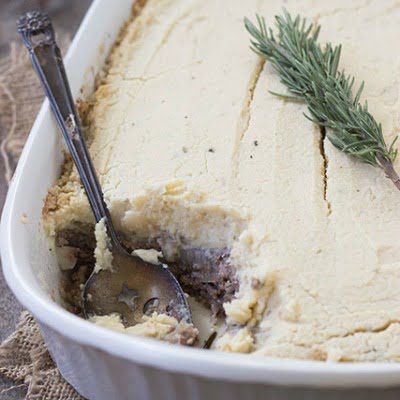 Tourtière is a French Canadian meat pie, and this recipe uses that as inspiration for this meaty shepherd's pie. Almost any ground meat can be used (we won't tell if you hide some liver in there). Topped with a creamy cauliflower mash, this shepherd's pie is another comfort meal that you can pull out of the oven like a master AIP diet chef.
Get the tourtière-inspired shepherd's pie recipe here.
Paleo chicken pad thai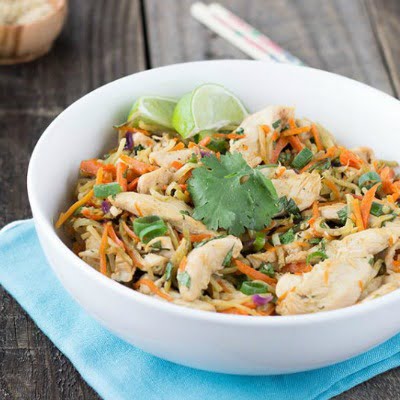 If it sometimes feels like you just want a quickie meal on the table, try this chicken pad thai. A broccoli and carrot slaw mix ready made makes this dish a breeze. Of course, you can always spiralize your favorite veggies instead, which take the place of noodles. With fish sauce, cilantro, and lime, this dish will take you right to the exotic. Just make sure the fish sauce is AIP friendly and skip the cashews.
Get the paleo chicken pad thai recipe here.
Hawaiian salmon with cauliflower rice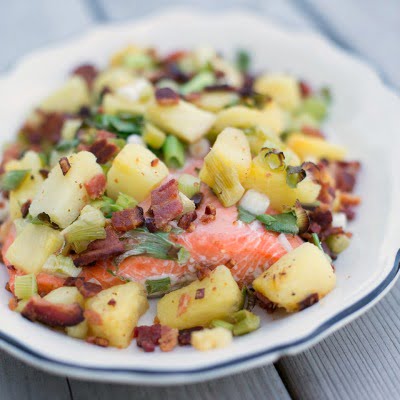 This baked salmon combines the sweet and savory taste of Hawaiian pizza. Using frozen pineapple chunks makes this dish take all of ten minutes to put together – just fry bacon, place bacon and pineapple over salmon, and bake for 20 minutes. Dinner is served.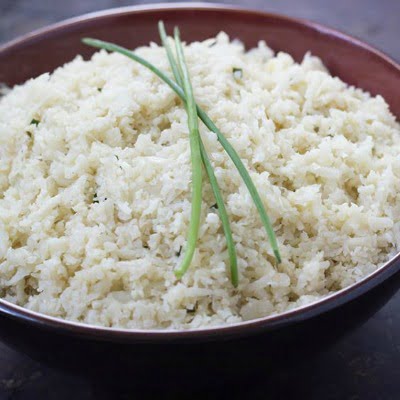 While the salmon is baking, whip together some cauliflower rice, which also takes just a few minutes. Use a food processor or high speed blender (with water) to rice the cauliflower, and then saute. This version flavors the rice with ginger, garlic, and a tad of vinegar – you can make it plain or flavored, to suit your taste and the salmon.
Get the Hawaiian salmon recipe here.
Get the ginger and garlic cauliflower rice recipe here.
Rib-Eye Steak with Celeriac and Horseradish Purée, Thyme Butter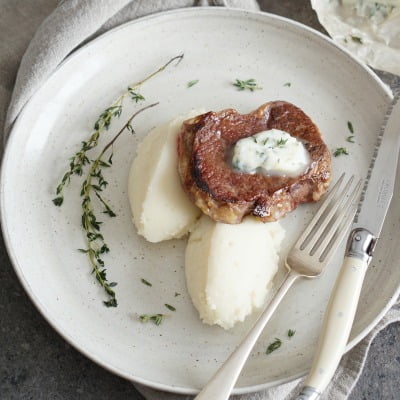 Steaks are both an easy and tricky cut of meat to cook. Easy, because there is so little work involved, just salt and put on a hot pan. Tricky because you want to use a hot pan but not overcook your meat. Herbed duck fat is used to make the thyme 'butter', and horseradish, a classic condiment for beef, is mixed in with the celeriac puree. For a relatively short amount of cooking time, you can have a fancy meal on the table.
Get the rib-eye steak with celeriac and horseradish puree recipe here.
Your AIP diet meal plan (get the PDF here)
Monday: Hearty Irish lamb stew
Tuesday: Tourtiere-inspired shepherd's pie
Wednesday: Paleo chicken pad thai
Thursday: Hawaiian salmon with cauliflower rice
Friday: Rib-eye steak with celeriac and horseradish puree
Your timeline
Monday morning
Monday evening
Tuesday morning
Defrost ground meat, if frozen
Tuesday evening
Prepare tourtiere-inspired shepherd's pie
Wednesday morning
Defrost chicken meat, if frozen
Wednesday evening
Thursday morning
Defrost salmon, if frozen
Thursday evening
Prepare Hawaiian salmon and cauliflower rice
Friday morning
Defrost rib-eye steaks, if frozen
Friday evening
Prepare rib-eye steaks and celeriac and horseradish puree
Your AIP diet shopping list
Produce
broccoli slaw – 24 ounces
carrots – 8
cauliflower – 6
celeriac – 4
celery – 12 stalks
chives – 2 tablespoons
cilantro – 10 tablespoons
flat-leaf parsley – 1/2 cup
fresh rosemary – 2 sprigs
fresh thyme – 11 sprigs
garlic – 2 heads
ginger – 10 slices
green onions – 2 bunches
limes – 4
mushrooms – 8 ounces
red onions – 4
turnips – 6 pounds
yellow onions – 2
Spices
bay leaf
cloves
coarse sea salt
garlic powder
sea salt
whole clove
Vinegar and oils
avocado oil
coconut oil
coconut vinegar
Frozen foods
frozen pineapple chunks – 2 cups
Meat & seafood
bacon – 10 slices
beef – 8
bone broth – 3 pints
chicken meat – 3 pounds
duck fat – 12 ounces
ground beef – 2 pounds
ground chicken – 2 pounds
lamb shoulder – 2 pounds
salmon – 2 pounds
tallow – 6 tablespoons
Sweeteners & baking Supplies
arrowroot – 1/2 cup
Canned & jarred Goods
coconut aminos – 2 tablespoons
horseradish – 4 tablespoons
Asian 
fish sauce – 6 tablespoons